Meaningful-Core Bands
By Carles on 11 Jun 2008
What is Meaningful Rock?


I feel like we're at a time where 'popular indie bands' achieve more critical acclaim than 'popular mainstream bands.' Although the popular bands outsell the 'indie' bands, they both have exposure and acclaim from similar sources. Is there any difference between these high-selling white acts with male lead singers?

Popular & 'respected' mainstream bands:
1. U2
2. Coldplay
3. Radiohead
4. Dave Matthews Band
(...a few others)

Popular & 'respected' indie bands
1. Death Cab for Cutie
2. Arcade Fire
3. The Shins
(...a few others)
Whenever one of these indie bands releases an album, people are like 'omg! I can't believe it's #1 on iTunes! WTF? They r indie! I used to listen 2 them, but not any more.' When it comes to music that white people listen to, I think popular mainstream and indie bands are fighting against all of that Soulja Boy type of stuff, so it's probably time for them to unite into one genre.

MEANINGFUL-CORE MUSIC: Presented by HIPSTER RUNOFF

MEANINGFUL-CORE music can be described as
1. music that makes a general mainstream consumer think that his/her life is more meaningful
2. music that an alt or mainstream person can talk about in a conversation and make them seem 'with the times', 'interesting', and 'on a quest for self-awareness.'
3. music that is structured to seem directly meaningful, cryptically meaningful, or if the singer just looks/sounds earnest and meaningful in some form
4. music that is made by a predominantly male band, with a male lead singer (the voice of a male offers more meaning than a female can offer)
5. music that is created by a band who 'meant it' on their first album, then experimented, then 'got mainstream', then 'meant it' in a cool-dad kind of way later in their career. (no matter what, they always sold out large venues)
6. music that music critics respect, and you can put on a mix CD for a person of the opposite sex to make them think that you 'understand love, life, and everything else that could make a relationship work.'
I think meaningful-core can help explain how the popular mainstream bands and popular indie bands have merged into this one classification. Zach Braff was an innovator by lumping meaningful-core hits into the Garden State soundtrack. At that time, consumers began to think that the music within their iPod should 'give them a more meaningful soundtrack for their lives'.' Each song can make an event like looking out a car window seem really amazing.

DCFC: they look like they really 'mean it.'
Meaningful-core bands can take your existence to the next level. They will help you relate to more people who are searching for meaning in their lives'. Meaningful-core will help you connect with impending sexual partners in a meaningful-kind-of-way. Their albums are important snap shots of the global economy of feelings.
Other bands or artists can have a 'meaningful core hit', but it doesn't always mean that their other stuff will be interpreted as 'meaningful on a mass scale.' For example, that Iron and Wine dude covered 'Such Great Heights', but I think only girls liked that song and that guy. A band like Death Cab can gimmick mainstream bros and entry-level altbros in with lyrics like, 'so this is the New Year... and I don't feel any different. :-( '
Meaningful-Core bands are able to transcend our society as a whole. They transcend media outlets, and they re-think 'antiquated methods of album distribution.' They have a sea of fans who are into being their fans. They have street teams.
[youtube=http://www.youtube.com/watch?v=qI8I6qcxWyU&hl=en]
Americans first learned that Coldplay was [Highly meaningful] when the music video for 'Yellow' showcased a rising sun throughout the duration of the video.

Subgenres of meaningful core:
Cryptically meaningful bands in an artsy-ish way
(These bands may or may not achieve success in sales, but garner a lot of critical acclaim for being really meaningful)
1. Sigur Ros
2. The Microphones
3. Animal Collective/Panda Bear
4. The Avalanches
5. Boards of Canada
6. The Books
(These bands appeal to people who want meaning through conceptual stuff that is less approachable to mainstreamers.)

Earnest Electro meaningful
(After people 'fell in love with the Postal Service' they were searching for some replacements of earnest electronic music.)
1. The Notwist
2. The Go Find
3. Air
4. Frou Frou
5. Lali Puna
6. only the song "Digital Love" by Daft Punk
7. Only the song "some one great" by LCD soundsystem
"leave me paralyzed, love" - the Notwist

Mainstream rock bands that add 'meaning' to mainstreamers who think they are really unique in a 'I still wear a ying yang necklace' kind of way
1. Incubus
2. Linkin Park
3. Creed (R.I.P.)
4. Tool
******
The Shins sing that 1 song about Caring being Creepy, right? Soo true (and so random)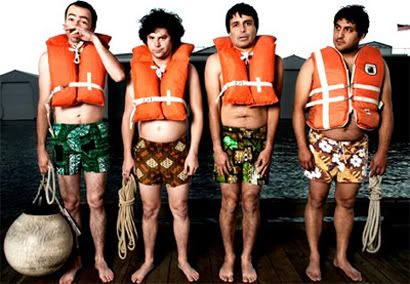 ******
So in conclusion, people are looking for meaning in their lives'. They want to know why they are here, and why their perspective is more special than yours or mine. Music offers a wide range of products that can help users believe that they are more unique, more authentic, more alterntive, more mainstream, and more intrinsically meaningful. While we all have different interpretations of 'what it means to mean something meaningful', we can all find an artist that helps us to feel like we truly connect with what it is that connects those of us who 'understand the human condition.'
Meaningful-core songs are in 25% of iPod commercials. (25% is dedicated to upcoming female stars, and 50% is dedicated to 'dancey fun stuff that alternative people listen to.)

Filling this iPod with meaningful-core music could make your head start secreting the gel-form of meaningfulness.

Plz elaborate on or refine any theories proposed in this bl0g p0st.
<3 yall r smart. Yall should be consultants 4 EMI/Geffen/SubPop/XL <3
<3 When Soul Meets Body <3