Memes that went viral b4 the internet: 'Do the coloureds and poors know it's Christmas? [via the Third World]'
By Carles on 24 Dec 2008
I can't imagine how memes 'went viral' b4 the internet created an incubator in which 2 spread. How was the whole world able to rally behind an Xmas wish 4 ppl who aren't educated enough to 'get' the concept of Christmas? Weird 2 see old memes/people like Bono, Sting, Boy George, Steve Aoki, Ronald Reagan, and other vintage musical celebs who turned into vh1 legends. Even if their lives' have fallen apart since then, it's refreshing 2 know that celebrity pseudo-humanitarianism existed b4 the Barrack Obama Incident. Kinda a bummer that I have 2 see this video every winter--it reminds me that there are less fortunate ppl in the world on one of the most fortunate days of the year 4 me.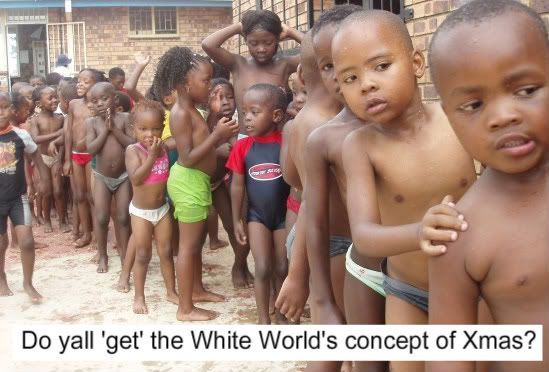 Like the authentic disco bassline in the s0ng, tho. It's a shame that such a beautiful song was ruined by content that wasn't about partying/relationships. I just hope that all of the bloghouse producers create some sort of super-group-for-a-cause, collaborating [via] the internet ( a modern version of the Postal Services).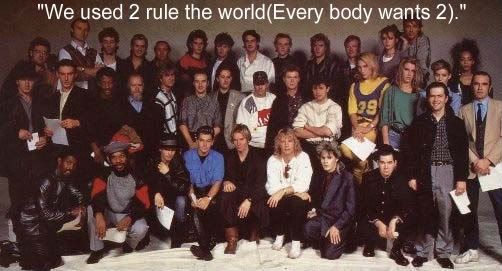 I also wonder how long this xmas meme will be around. I think it will probably die about 30 years after Bono/Sting/Boy George dies. HOPE memorable Obama supergroup collab videos stick around to remember 4ever.


XX PERSONAL NOTE XX
h8 being home. Started off alright. had 2 go 2 the mall 2 do some last minute shopping. s00 many entry levelers & mexicalts everywhere. It's like they don't have a home and live at the mall. Wish they'd get jobs at the food court instead of stealing from mall kiosk entrepreneurs. Kinda ruined my day. Had a soft pretzel and an Icee. My tongue turned red and I started crying. Reminded me of Sparks.