The Most Fascinating/Beautiful Alternative Personal Brands of 2k8
By Carles on 29 Dec 2008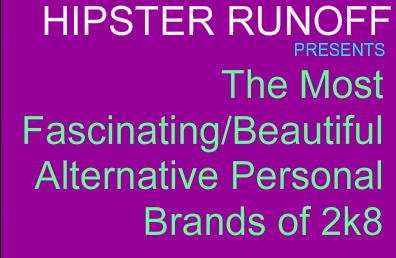 Every year, certain individuals set themselves apart from 'the crowd' with strong personal branding decisions. In our alternative word, you must be creative/talented/beautiful/sluttie/zany/good@self-promotion/have a gimmicky gimmick in order 2 b noticed. For the next couple of days until I lose interest in the gimmick, I will post about some of the strongest personal brands of 2k8.
(gonna miss 2k8)
/// The Year
/// The Neon Died

FASCINATING/BEAUTIFUL PERSONAL BRANDS
BLOG BITCHES: UFFIE & ALICE GLASS


Dear Uffie and Alice,
Yall were really good 2 me this year. Not sure if I found yall talented, and not even sure if yall have albums from 2k8, but I just posted a lot abt yall. Sorry if yall feel 'objectified' or like I gave yall non-traditional coverage that entry level blggrs + fggt alt news sources give yall, but please appreciate me for giving u 'coverage.' Didn't mean to demean your 'art'/'vision' or whatever u wanna call it. Not gonna apologize for 'crossing the line' cuz I don't think I did, but I hope yall are able to 'stay sexie' in 2k9. This might require releasing a book where you post pictures of yalls selves' having sex with men, kind of like Madonna. Or maybe you can 'go krazie' like the Britney Spears band. Not gonna tell yall how 2 manage your careers, but just sayin...
Most importantly, don't let yalls alternative fame and sex appeal go 2 yalls heads. Don't 4get ur past, and don't turn into the ppl u h8. Sorry if I sound like yalls 'resentful dads' who don't understand ur careers because u don't have medical/dental/vision coverage, but do what u can 2 take care of urself. We don't even know if MP3s will still be legal in 2k9, so just take care of yalls selves.
Proud of yall for having a stronger personal brand than Ladyhawke/Lady Gaga/Little Boots/Lovefoxxx/etc. (U never know what could happen in 2k9, though).
Your blggr,
Carles
PS: "I still haven't found what I'm looking 4." -U2 about Uffie's alt breasts

Pupu Platter of Links
Uffie Grabfest // Uffie Audrey Hepburn Makeover // Uffie Pregnancy Rumors Uffie Grandparent///// Alice Glass Upskirt grab //// Some AltBro + Alice Glass /// Uffie nips foto shoppe /// Uffie Juicy nips // Uff Ribcage /// Alice Glass leggings
WHO ELSE SHOULD BE ONE OF THE MOST BEAUTIFUL/INTERESTING PERSONAL BRANDS OF 2K8?
(besides 'Barry Obama')