Miss U
By Carles on 03 Feb 2009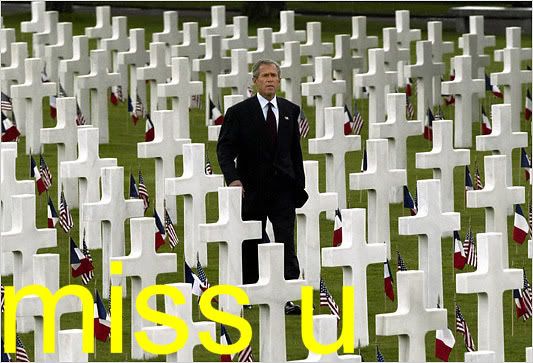 Dear President George W. Bush,
First and foremost, I just wanted to say 'miss u.' I really took u for granted. I remember when u were in office, I liked to pretend that I was 'outraged' about 'the way our nation was going.' I was 'pissed off about the war' (even though I would never have to go), and I thought that u were 'too strong armed and oppressive.' However, I realized that you were a lot like me. You were a chill bro. You were a dreamer.
In the future, I will learn from my mistakes. I will not be influenced by the mainstream liberal media who just want some Commy Red in office. I will value u. U ruled our nation during my most critical formative years. U r as significant as the time that my parents' marriage fell apart in early 2001. U r part of the 'perfect storm' that made ME.
We have a lot in common. We both like to do blow. We are both set in our ways. And we both found out about 9-11 while we were in a public school.


I'll never forget after 9-11. I was so afraid of the world. I felt fragile and vulnerable. I felt scared. And then u walked into Yankee Stadium and threw a strike while wearing a Bullet Proof vest. I thought I could do anything. I almost even joined the armed forces, but then realized I was upper middle class and didn't have to resort to such a drastic lower-class solution like that.
We're just a lot alike. U were kinda spoiled and entitled to a lot, and I'm kinda like u except on a smaller scale. I liked u. I feel like I wasted our glory years. U did what I would have done during ur lame duck term: chilled hard. It's also important 2 realize that most reasonable people h8 Al Gore. Glad u won. Not sure if I will ever vote again, unless a true bro emerges.
These next 4-8 years are gonna be sooo annoying. I might even not be able to watch my two favourite shows 'with my peen out' any more--The Colbert Report and the Daily Show. (I still think that Craig Kilborn was the best Daily Show host). Without u, they don't have a world to pretend is 'bad.' Just glad I realize that things were never really too bad with u. Kinda weird how when ur a citizen, u feel 'small' and can't ever really tell when things 'change.'
I'm just trying to say that before 2k8, I wasn't very progressive, and I thought 'being into politics' made me an individual. Then I realized that it's kind of a gimmick for 'people who want 2 seem interesting+concerned with global issues.' Now I feel kinda bad that I constructed my personal brand based on h8ing u 'with a passion.' I now realize that I was just an entry leveler looking for a gimmick--however, I realize now that I was only searching for my perfect vision of our world. I now realize that my utopian society will not be achieved through 'politics'--instead it will be achieved through the arts/self-expression/the internet/conceptual stuff.
miss u
wish we had 8 more years.
h8 when people call my blog 'sarcastic' or that I am trying to be 'satire' but this is what's actually what I'm feeling deep down inside of me. Just trying 2 b 'raw', yall.
President Bush
a true bro
We Miss U
Way more chill than your dad
and more vulnerable than Obama
if u were going 2 do a mountain of blow
with any President,
who would it be?


[photos via nytimes blog]
All I ever wanted was an authentic bro to run this nation.
<3 Carles