POPULAR TWEEN BAND or A GROUP OF POKEMONE RUNAWAYS?
By Carles on 15 Feb 2009
After the success of AltBro vs AltBag, Carles continues to push the limits of HIPSTER RUNOFF by asking relevant, thought-provoking questions. In this edition, he asks if this group of tweens is a POPULAR TWEEN BAND (like the alternative Jonas Brothers from Southern Cali) or A Group of Bitter Pokemones who ran away from home in search of a better/more liberated life?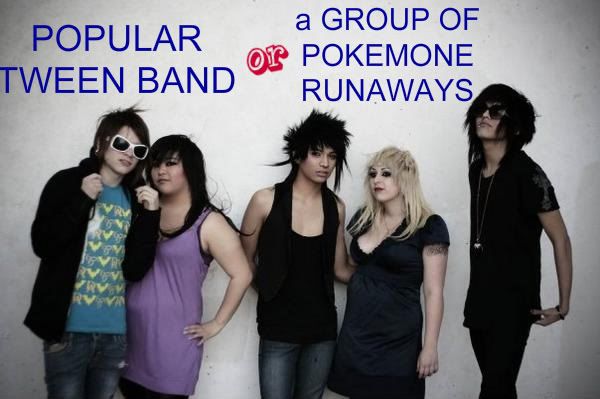 What do yall think they are? Plz justify ur answer, for example
"They are probably one of those bands that MTV forces down ur throat even though they are pretty ghey, kinda like Tokio Hotel."
or
"They are pokemones whose parents kicked them out of their house for have 2 many bisexual relations and being too fruity. Parents from the Mexi part of the world just don't understand."
What do yall think?
Previous pokemones coverage
http://www.hipsterrunoff.com/2009/02/punks-or-pokemones.html
XX BONUS POKEMONES PARTY FOOTAGE XX
/////Are pokemones the new Entry Level Alts?
Do yall think that pokemones are more authentic than entry level alts cuz they are 'more sexual' and 'just wanna experiment' more than they want to 'buy tween accessories'?