PUNKS or POKEMONES?
By Carles on 04 Feb 2009
After the success of the HRO Gimmick altbro or altbag, HRO has continued to crossbrand this game/gimmick. In today's edition, we are asked to guess whether the Mexicalts pictured are PUNKS or POKEMONES. For a better definition of the pokemones sensation of tween bisexuality, read this old post.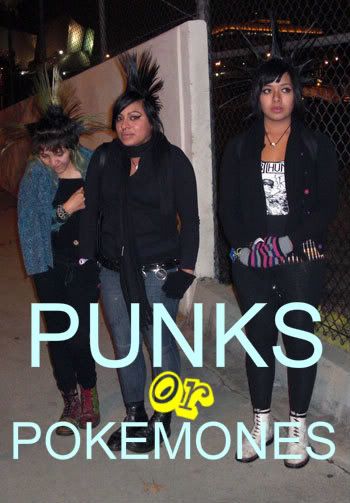 [Photo via SBATVC]
Please justify ur answer to receive a meaningful email from Carles and a $20 credit to your paypal account.
For example,
"They are punks because they don't care about anything kind of like that NO AGE band."
or
"They are pokemones because they probably only care about vanity and being tween bisexuals without educations."
WHAT DO YALL THINK?
____________________________
If u didn't find this game fun, please visit the previous game BLIPSTAZ or FGGTS? (Kanye West + Black Rat Pack RMX).