ALT ALIENS
By Carles on 23 Mar 2009
This is a post about housekeeping.
There are three items.
Item 1
////////////////////////////
ANOTHER SIRIUS SATELLITE RADIO SHOW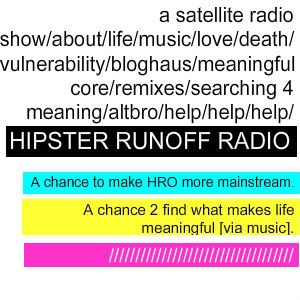 The HIPSTER RUNOFF radio show airs Mondays at noon and again at midnight EST on Sirius XMU. Iff you're an XM subscriber, you can listen to Blog Radio on channel 43, and Sirius subscribers can still find us on channel 26. If u really want 2 hear Carles Show, u can get a 3 day trial membership.
U can always listen 2 my podcasts if ur poor.
PLAYLIST
Grizzly Bear - Cheerleader
Port O'Brien - I Woke Up Today
Deerhunter - Wash Off
The Twelves - I Feel Fine [MP3]
The Pains of Being Pure At Heart - Young Adult Friction
Air France - Collapsing At Your Doorstep
Harlem - Good Bye Horses
Friendly Fires - Skeleton Boy
The Books - It Never Changes to Stop
Heartsrevolution - Ultraviolence (Ft Spank Rock)
Phoenix - Too Young
Animal Collective - Fireworks
Rye Rye - Bang ft M.I.A.
M.I.A. - Paperplanes (DFA Remix)
Vampy Weekend - The Kids Don't Stand a Chance (Chromeo Remix)
Miami Horror - Make You Mine
The Walkmen - Wake Up
Bullion - Time for Us All to Love
Chikita Violenta - Laydown
The Embassy - Some Indulgence
The Golden Filter - Solid Gold
HOLY GHOST! - Hold On
College ft Electric Youth - She Never Came Back (Russ Chimes Remix) [MP3]
The Go Find - Dictionary
Grizzly Bear - Two Weeks
Item #2: A Party Worth Blogging About in Miami

This party is on Wednesday. R u going 2 come? If ur not able 2 come, u can always just IM me at the screen name HIPSTERRUNOFF.
RSVP: http://www.eatskeet.com/rsvp
The Gansevoort Hotel Pool Centre
Wednesday March 25, 2009
Photos by Miscellanous Alternative Photographers
Music by miscellaneous 'relevant' DJs
I will be wearing a t-shirt that says "I am Carles."
Item #3: BREAKING NEWS
Did yall hear that popular nightlife DJ Steve Aoki was abducted by alien skanks from another planet who were sent to Earth to market a new product by showcasing their beautiful bodies?
p0st m0re Alien skanxxx


Is there life on other planets, and if so, do u know if they know 'how 2 TUGSTRONG'?
More alien sexie broads 'after the jump'. gonna tug myself to sleep yall. gnite yall [via green sp00ge]
Just doing their marketing internship.

Tryin' 2 stay sexie without losing too much paint

Hangin out with popular nite life AltJew DJ A-Trak


[Photos by Cobrasnake]
Alternative Celebrity, DJ
A-Trak is a popular alt DJ who is also mainstream.
Read more>>>>
Alternative Celebrity, DJ
Steve Aoki is an AZN DJ.
Read more>>>>