Bad News–Got Expelled from Design School
By Carles on 11 Mar 2009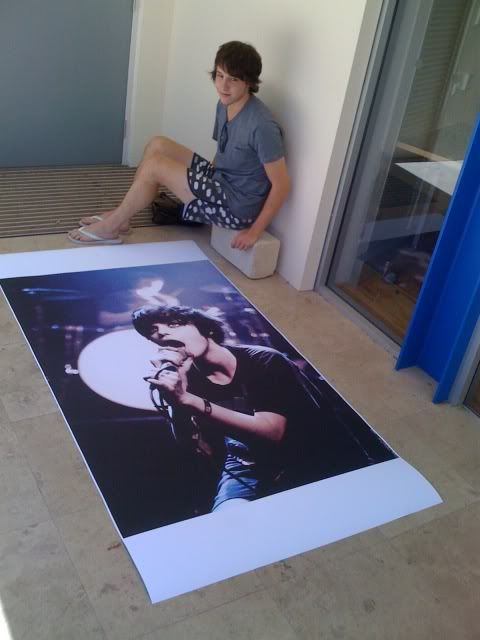 Yall-- got some bad news. Probably won't be able to blog as much since I got kicked of design school (I usually do most of my blogging from public wifi or the Digital Imaging Apple Lab). I was actually a student worker in the lab, and decided 2 start a lil business where I would use the large scale printers to make custom posters for my friends. It has actually always been my dream to start a t-shirt/poster eCommerce website.
N e ways... was actually printing out a hi resolution image for myself. Just wanted to hang this picture of Crystal Castles lead singer Alice Glass on my ceiling right above my bed. A lot of mainstreamers have pix of Jessica Alba/Cindy Crawford/Bob Marley in their room. I just wanted to alt-ify my dorm room a bit [via tugging urself 2 sleep].
But yea... my dickhead professor walked in and 'flipped a shit.' I wasted s00 much of the department's ink budget. He was angry, and said that my ideas were bullshit anyways because I just 'put Helvetica over everything and call it ART.' I was immediately called into the Dean's Office, and had a talk. My grades were low, yall. Just been getting caught up in other aspects of life, and sometimes I just don't care about meaningless Art History/Photoshop projects. Just want to get a Marc Jacobs/Urban Outfitters/Busted Tees internship. Got asked to resign from school so that they wouldn't have to expell me. Had to clear out of my dorm room by 5 pm. sucked.
Going to pretend that I am still going to college for the rest of the semester, then just pretend to drop out so that my parents aren't mad at me/stop paying my rent and make me move back 2 suburbia.
Have yall ever gotten in trouble for using resources that u weren't supposed 2?
Have yall ever been in trouble? How do yall 'deal with it'? Do u just try to say ur not supposed to fit in2 society and that every1 else is stupid and doesn't 'get' what 'truly matters'?