Lord of the AltBros -- Rage, Rage Against the Dying of the AltBro
By Carles on 16 Mar 2009

I remember in the book Lord of the Flies, there is a group of bros who get "LOST" on an island. They have no 'societal norms' and break down into tribes who go to war against one another. One tribe is 'violent' and the other one is 'all about peace.' I think it's supposed to be about how we handle being human after all with a 'lil bit of animal' inside of us.
Kinda feel like that's what's happening with altbros. Now that electro is 'kinda dead' and altbro fashion is no longer 'hip', altbros have broken down into tribes who are either peaceful (listen to conceptual core), or they have turned into violent bros, like the one above. They are hungry for blood, and they will use it as war paint / an interesting accessory for personal branding.
Kinda worried that we're gonna see more murders in 2k9 just for the sake of 'using the blood as face paint.' Just think that people get kinda messed up in the quest for authenticity to the point that they are 'murdering their bros' just because they are too insecure to wear their lens-less glasses without a hand print.
miss u altbros.
////////////////////////////
ANOTHER SIRIUS SATELLITE RADIO SHOW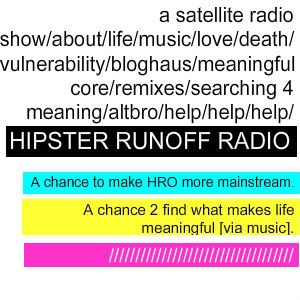 The HIPSTER RUNOFF radio show airs Mondays at noon and again at midnight EST on Sirius XMU. Iff you're an XM subscriber, you can listen to Blog Radio on channel 43, and Sirius subscribers can still find us on channel 26. If u really want 2 hear Carles Show, u can get a 3 day trial membership.
U can always listen 2 my podcasts if ur poor.
Playlist after the jump.
Phoenix - 1901 [MP3]
VEGA - Well Known Pleasures [MP3]
Kleerup - Until We Bleed (ft Lykke Li)
Grizzly Bear - He Hit Me
St. Vincent - The Strangers
Sigur Ros - song i don't feel like typing out
Curses! - The Deep End (Holy Ghost Remix!)
YACHT - the Summer Song
Klaxons - As Above , So Below (Justice Remix)
Here We Go Magic - I Just Want to See You Underwater
Animal Collective - Daily Routine
Air France - Collapsing At Your Doorstep
Gil Mantera's Party Dream - Tigers [MP3]
Annie - Heartbeat
MGMT - Electric Feel
Adrian Orange - While You Live
Bat for Lashes - What's A girl To Do?
We HAve Band - West End Girls (Pet Shop Boys Cover)
Bullion - Time For Us All to Love [MP3]
Chairlift - Bruises
Chromatics - Hands in the Dark
Ladyhawke - Back of the Van
PNAU - Embrace
Empire of the Sun - Half Mast