This product appeals to me since my version of reality is highly blogcentric
By Carles on 18 Mar 2009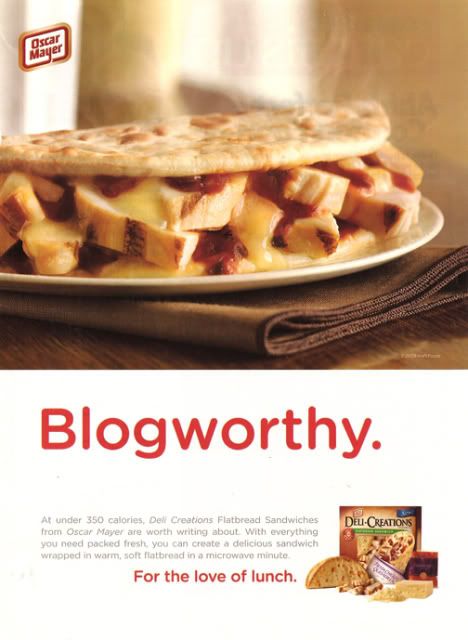 Every day, I read several hundred blogs in an attempt to stay 'connected' to 'the world.' I believe that blogs are an authentic source of judgment for events and products since they are able to stay more 'honest' and 'raw' than mainstream news+content sources. Blogs are authentic, and the content/writing/blurbs on the most respected blogs are relevant + authentic.
I recently saw an advertisement for some sort of taco/quesadilla made by Oscar Meyer that made me think it might be worth trying, even though it looks like it was assembled by a white mom from suburbia. The advertisement declared that it was blogworthy. I only enjoy blogworthy things.
Blogworthy memes. Blogworthy 'so rand0m' news stories. Blogworthy MP3s. Blogworthy celeb gossip coverage. Blogworthy gimmick blogs. Blogworthy technological gadgets. Blogworthy photographs. Blogworthy shows. Blogworthy 'improv everywhere' flash mobs. Blogworthy viral videos. Blogworthy gimmick products like the snuggie.
The things I value most are [HIGHLY BLOGGABLE]. My mission in life is to become a 'content filter' to determine what is blogworthy and what is not blogworthy. Think of ur life as 'a blog' and u r trying ur best to blog about what 'represents u' and what sort of content will 'help u garner a larger audience.'
I have a firm belief that everything which eventually becomes 'relevant' and 'mainstream' is incubated in the blogosphere, providing an environment where 'authentic buzz' can carry the product, idea, or meme to eternal glory.
What is HIPSTER RUNOFF? It's a blog worth blogging about.