Worried abt American Apparel
By Carles on 13 Mar 2009
I'm kinda worried about Am Appy. I saw this advertisement, and it wasn't a traditional ad of a 'hot girl' showing off her perfect alternative figure. Instead, the advertisement was meant to highlight what a great company Am Appy is bc they hire unskilled ppl, make them skilled, and then pay them above-market wages + give them a chance to wear Am Appy clothes at work + learn English +etc.
Photo via PSFK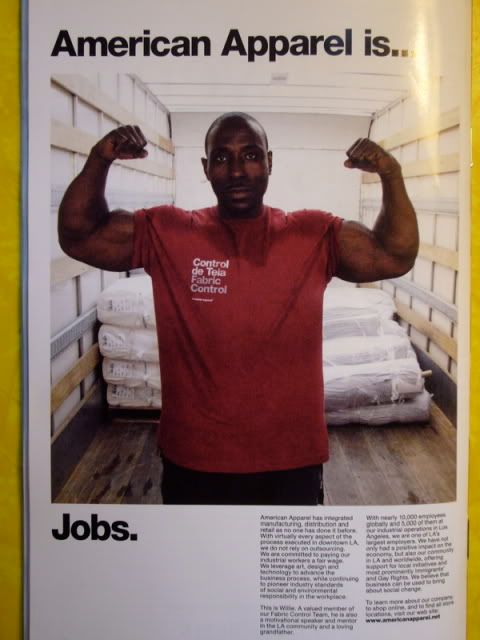 Feel like they have already penetrated the entire alternative market, and realize that maybe it is time 2 start targeting more mainstreamers. Feel sad that the Am Appy authentic glory days might be over/might live 4ever. Just looking for simple clothes that don't brand me too much, but can still associate me with a relevant aesthetic. Not sure if there will ever be another Am Appy. Glad they came along, or all alternative ppl would still be wearing 'vintage' or maybe even 'trying to make THE GAP' seem alt.
Kinda sad that I didn't know there was a 'financial crisis' going on behind the scenes of Am Appy. Not sure how businesses work, though, so maybe 'mergers and acquisitions' are . Feel like 'such a consumer' sometimes. Then I pick up the 'newspaper' on the internet and read abt how companies are doing their best 2 expand and stay alive in a rapidly changing economy.
American Apparel, the clothing retailer, is near a deal to sell a 20 percent stake in the company to Lion Capital, a private equity firm that once owned Jimmy Choo, for about $80 million, people involved in the deal said on Thursday.

The deal is expected to be announced Friday. American Apparel is on the verge of defaulting on $16 million of debt owed to the technology mogul Michael S. Dell that comes due a week from Friday.

The deal should breathe new life into American Apparel and help stabilize its business in the economic downturn. The company announced last month that sales at its stores fell 9 percent, the first monthly drop in the company's history. Shares of American Apparel have fallen from a high of $10.86 a share this year to $1.49 a share on Thursday because of anxiety about its ability to pay its debts.

American Apparel will use the proceeds of the sale to meet the payment due to Mr. Dell on Friday as well as $35 million of additional debt owed to him, these people said. Under the terms of the deal, Lions Capital, based in London, will receive warrants for 16 million new shares with a strike price of $2 a share, these people said. Lion Capital, which focuses on consumer investments, owns Orangina Schweppes, the soft drink maker; Kettle Foods, the potato chip maker; and Wagamama, a chain of trendy noodle restaurants in London.
[via NYTIMES]
Why didn't any1 ever tell me that Dell Computers are responsible 4 the Am Appy Explosion? [via Dude Ur Getting a Dell/Hoodie] Does n e 1 else know n e successful alt companies who sold themselves to larger companies and couldn't stay ALT 4ever? Did p4k get an investment from Viacom/CBS? Did Urban Outfitters get an investment from Apple Computers? Did tumblr sell itself 2 Yahoo? Did Vimeo get purchased by a company that used to make VHS tapes? Did youtube get purchased by Yahoo? Did iPhone get purchased by CISCO?
This is a video meant to show 'corporate big wigs' how 'kewl' and 'marketable' Am Appy is.
Yall I'd feel sad if Am Appy was purchased by some other lifestyle brand who managed it. What if www.oldnavy.com/americanapparel exists 1 day? Will it be authentic?
Do yall think Am Appy will stay in business 4evr? 1 day, will I walk through a mall in suburbia, and tell my son "That is an American Apparel. It is where I shopped when I was a tween/altbro. Things have really changed."
I wonder if businesses wish they could 'live 4evr' kinda like how ppl wish they could live 4evr.
Where do yall shop these days?