People who wait in line overnight to buy shit.
By Carles on 03 Apr 2009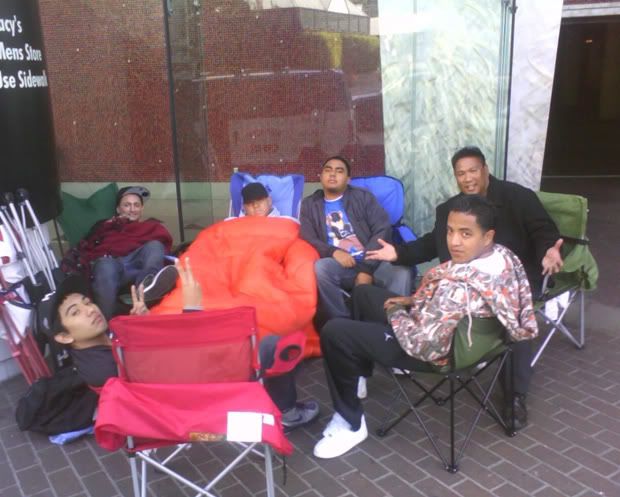 Sometimes it is hard for me to evaluate what I truly value, and how much I value it. Do I value 'friends'/'family'? Do I value 'life experiences' like 'studying abroad'? Do I value having new products in my possession? Do I value 'shit like Apple products'/'cell phones'/'the right to say that I was one of the first people to see an adventure action movie that is part of a trilogy'?
I saw these bros sitting outside of an urban boutique waiting to purchase the Kanye West sneakers, which I have previously reviewed. I wonder 'what is so important' about a shoe? Is there some sort of 'technology' that will make their lives' better, or do they just want the right to the experience/right to purchase the shoe for $1000, or the right to sell the shoe on eBay to the 'highest bidder'?
Wonder if I could 'bond' with the people who wait in line for new products, since we basically value the same stuff. Feels weird when 'everything feels like a toy', but there are still these adults who 'really want to buy a kewl new toy that will make people think they are kewler.'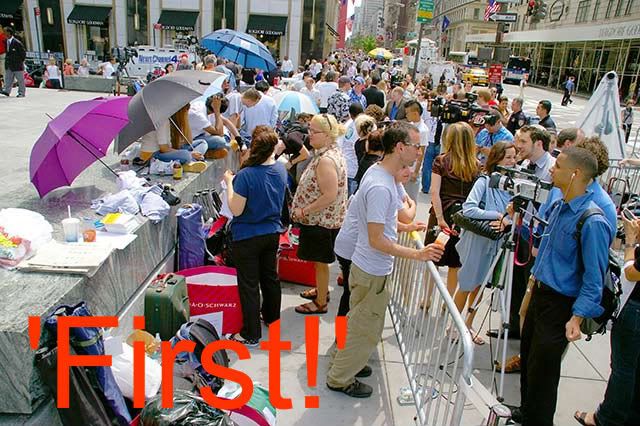 Always kinda weird when there is a higher demand than supply, and when people 'wait overnight' for the right to buy something. Kinda like a Nintendo Wii / Jonas Brothers tickets. Sort of reminds me of 'spoiled kids' from my childhood, whose parents were 'kinda bad and lazy', just sort of letting their son/daughter 'run away with the concept of COOL.' Still angry that my parents weren't like that.
Felt sad when I had to wait in line at an AT&T store for the new iPhone. Wish I lived in NYC/ a city with an Apple store so I didn't feel like 'such a loser' and I could actually bond with 'kewl people' who were part of the same 'product tribe' as me.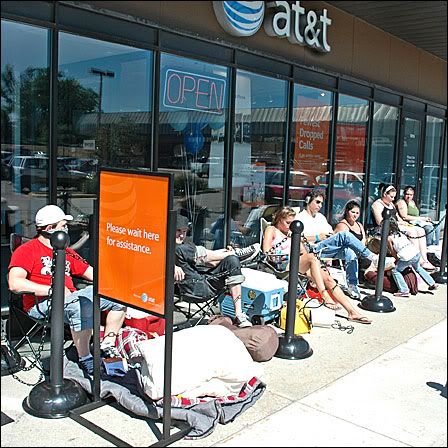 So what do yall value? Have yall ever 'sacrificed' ur time 2 'wait for the right' to 'buy something fuckin awesome'? How does it feel when u have the product in ur hand, then spend several hundred dollars 2 purchase it? How does it feel the first time u use it?
Trying 2 be happy, and establish a hierarchy of wants and needs. Not sure if it means that a 'lifestyle brand' has too much control over my life if I am willing to wait outdoors for more than 3 hours for it.