Which video is more 'representative' of the Coachella experience?
By carleser on 27 Apr 2009
Went to coachella. Wrote down all the bands that I saw play, then came home and made this image in photoshop. The bands that are more 'relevant' are in big text.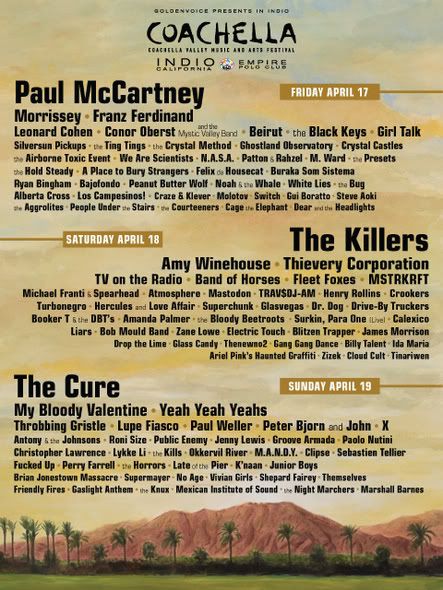 Feeling sad that the festival is over. I really feel like I can 'be myself' at places that seem like an AltUtopia.
Had a lot of fun at coachelly. Met some new bros, heard some new buzzbands (The Killers, Peter Bjorn and John, The My Bleeding Valentines, etc.). Twittered a lot about how I was feeling (hot, cold, dehydrated, headaches, hungry, happy) and what just happened (heard a song I liked, tall person in front of me, band being 'late' to the stage, band 'sucking', some1 'doing something stupid', etc.).
Glad that my bros and I can all twitter and experience life 2 gether.
N e ways, watched a few 'vimeos' Aka 'the alt youtube.' Saw some videos of coachella, and I'm not sure which 1 was more representative of 'THE COACHELLA EXPERIENCE.'

Video 1: A chill ass party with bloghouse DJs, alt celebs, altbros finding themselves, and that 1 song about '1 day we're gonna live in Paris' in the background.
This video makes coachella seem like a chill ass time. Doesn't even seem like u need to go to the festival, u just need 2 be 1 of many bros who 'goes to a party' at a local upscale hotel/resort, and just stands there 'looking relevant.' There are also a lot of 'bad ass product placement shots.' Think that brands are supposed to have 'strong presences' at alternative events, and then 'get blogged about.' Hotties in bikinis. Keut Am Appy swim suits. Palm Trees. Ppl in sunglasses. Seems like this video might be what 'being young, free, and chilling in the general vicinity of a music festival' might be all about.
Video 2: Some bro with a lil peen getting tazed by Cops
This video probably represents 'rebelling' against the modern music festival. It sux how every aspect of festivals have a sponsor. I'm tired of seeing my favourite band play on AT&T Wireless Stage/Chili's Stage [ via stage sponsorships ]. Tired of pissing in port-o-potties that are sponsored. Feel sad for the bro with a lil peen. Think he just wants to chill, do some salvia/acid, and watch M.I.A. and Paul McCartney perform live. I think that people got to walk around with their peens out at Woodstock. I think that festivals are supposed to be 'a safe place for tweens' since they are the people who 'purchase a $200 ticket for their birthday'/'getting good grades on their report card' [via parental reward].
Guess there's no place in the world for old men with lil peens. But it also might be viral marketing. Just can't be too sure these days. Honestly, I really posted this post just 2 ask 'how big do u think that bro's peen is when it is 100% ERECT?'
Wonder if Woodstock was even 'that chill.'
Wish there was a way to find out what the most authentic music festival experience of all time was, then start a business where we created a 'time machine', and sold tickets to attend this music festival for $300-500.
Are yall going 2 any music fests this summer? Looking forward 2 anything?
Sad that this is my last year in high school... nervous.
COACHELLA OR BUST!!!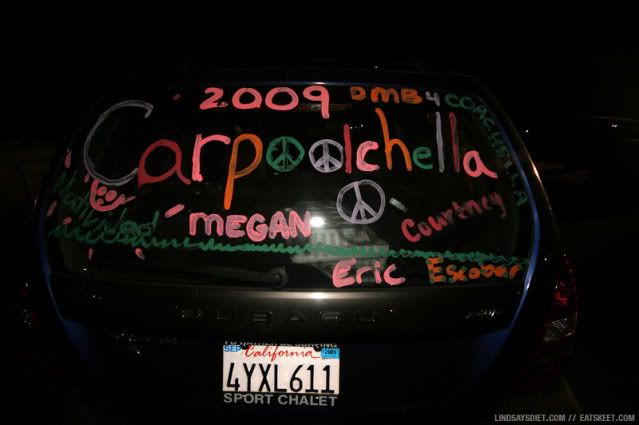 [via my mom's mini van]