Who is the most authentically chill bro?
By Carles on 14 Apr 2009
Just saw a picture of three bros chillin', bein' creative. Wonder which bro would be the best bro the chill with?
Photo via Kanye Blog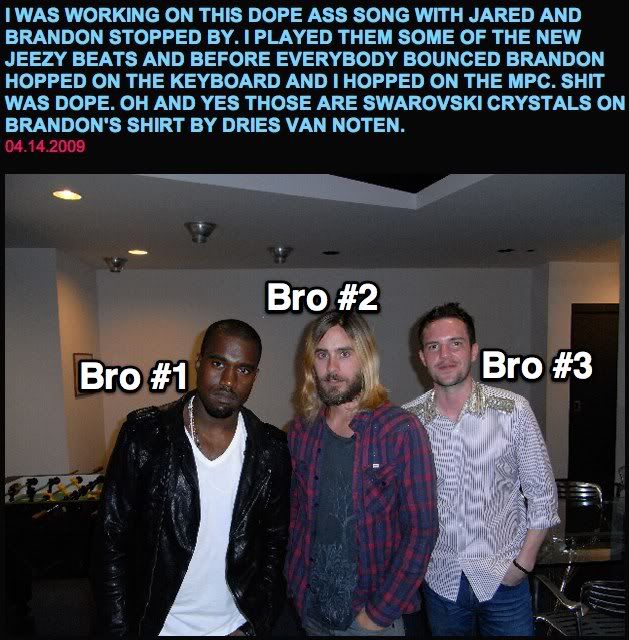 Who do yall think would be the best bro 2 chill with?

Bro #1) He seems like a bro who is into cool shit, like culture and rap and stuff. Might be awkward to become BFFs with a black person if ur parents aren't as progressive as they pretend to be.
Bro #2) Seems like a pretty cool post-Cobain type of bro. Might always be down to throw down an authentic rock n roll post-rock chill. Not sure if ur parents would want u hanging out with a bro who 'looks like a drug addict.'
Bro #3) Seems like he is a cool bro who is always down to play some kewl riffs on a no-wave tribute song. Not sure why he is wear a shirt for a 'flashy' 46 year old mom.

WHICH BRO DO U WANT 2 CHILL WITH/BRING HOME 2 UR PARENTS AND TELL THEM IS UR BFF?

...BUT SRSLY....
Does n e 1 know why artists always have to 'collaborate'? Feel like 95% of the time, it is pointless 'co branding' 2 make people feel like ur really 'making new, beautiful art' cuz u 'don't care about what genre u fall into.' Maybe in the future we need 2 leave 'mashing up' to experts like The Girl Talks, and othe nite life DJs. Tired of these artists trying to piggyback off 1 another 2 'reach new audiences'/assuming that 'authenticity' or 'pop appeal' is a transferrable force.
Miss the days when collabs were 'authentic' and 'exciting.'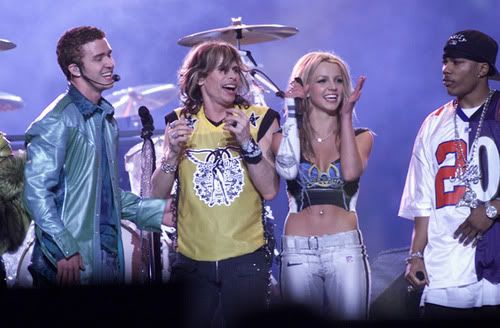 WHATS UR FAVE COLLAB OF ALL TIME THAT CHANGED MUSIC 4EVER?