Feeling sad that this movie was made 4 me. h8 the economy. h8 my 'worthless college degree.'
By Carles on 02 Jul 2009
I recently saw this movie trailer, and it felt like 'God' had decided 2 'make a movie abt my life.'
Recently, I graduated from a Top 20 university with a liberal arts degree. I was hoping to get a very good job after attending a prestigious school and getting meaningful life experience in a dormitory setting. Unfortunately, things didn't go as planned. I ended up moving back in with my parents, and started to sexually experiment with 'people who were losers in high school and just stayed at home.'
I was s00 confused...like I thought I was on the 'fast track' 2 'being rich & happy.' However, I was 'just another brick in the wall' of the American economy, and I didn't really have any 'real skills.' Sorta just wish I could get paid 2 'be myself' and 'share my musings' on current events (in 140 characters or less).
Just really starting to learn who I am, and how 2 'find happiness' in this world. Guess maybe I should just 'surround myself with ppl who love me' and things will 'be alright.' Sorta wish there was a 'foreign man' who lived across the street from me who could share his knowledge/cock with me. I wonder if life really is meaningful, yall. Maybe I'll know more abt life when I 'find a real job.'
Sad that my life may not actually be what I thought it would be. This is a movie about 'settling' for less. Sorta like 'a more realistic version of The Devil Wears Prada' for the type who would see this kind of movie.
Previous Job Coverage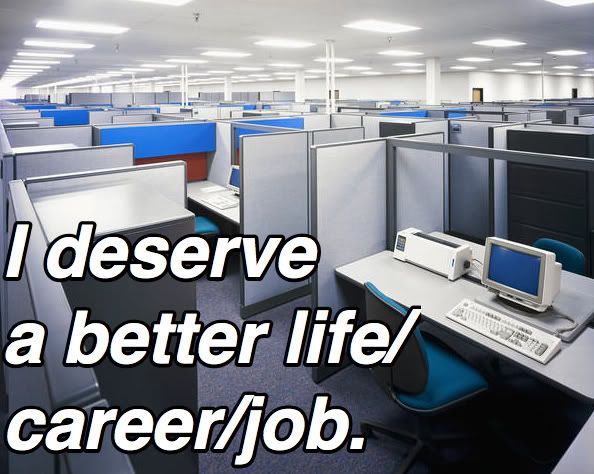 http://www.hipsterrunoff.com/2009/05/my-jobcareer-does-not-align-with-my-true-personal-brand.html
What did u major in?