Is Miracle Whip the Secret Ingredient 4 'Individuality'?
By Carles on 04 Sep 2009
How many authentic alts can u count in this video?
My entire life, I have tried to be an individual. I want to be noticed. I don't want to blend in, nor do I want to be ordinary, boring, or bland. It's very hard, particularly in the internet age where trend adoption happens so instantaneously [via viral tweet buzz]. I just want to be myself, and some how stay an 'individual' without being 'mainstream cool' enough for people to copy me.
According to this commercial, Miracle Whip is somehow a gateway to individuality and authenticity. Traditional mayonnaise represents everything 'uncool' and 'mainstream' about the world. I traditionally utilize my 'taste in music' and 'technological adaptation' to set myself apart, but it's kinda weird how little things like 'condiment choices' can go a long way towards establishing a unique personal brand. Sorta like ppl who dip their fries in _______ instead of ketchup.
It seems like the people in this commercial are partying, enjoying life, and spending time with other human beings. They all seem confident in their personal brands, as if they have made a happy life where they can have rooftop parties in urban environments. I think it is safe to assume that they achieved this comfortable status by consuming Miracle Whip. Might go to Whole Foods and see if they have Miracle Whip, or if they try to tell me that organic mayonnaise is better 4 u.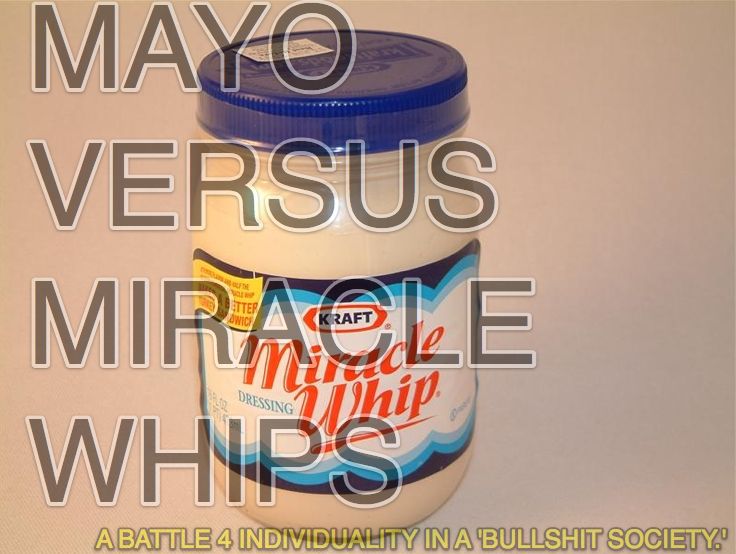 Do u use Miracle Whip?
R u counting calories?
What is the most authentic condiment?
Should I just start saying 'that's s00 mir whip' instead of 'that's s00 alt' and 'that's s000 mayo' instead of 'that's fckng mnstrm'?
If I smear some Miracle Whip on my AnCo vinyl, will it sound better?
Should I be Miracle Whip 4 Halloween?
Does it make u feel uncomfortable when generic products 'over-brand' themselves in order 2 'be kewl' with 'hip ppl'?
Miracle Whip might be the new Alt.
Miracle Whip might be some sort of 'enzyme' which enables authenticity.
Miracle Whip might be the new Sparks/PBR.
Plugging your head phones into an open jar of Miracle Whip might produce the best music ever made.
Miracle Whip might 'prevent STDs and babies' if u use it while having the sex with lovers.
Last night a dab of Miracle Whip saved my life.

Really feel like this marketing campaign 'spoke to me.'
When they tell u 'Don't Be So Mayo'
They are really telling u
'Don't be such a mnstrm fggt.'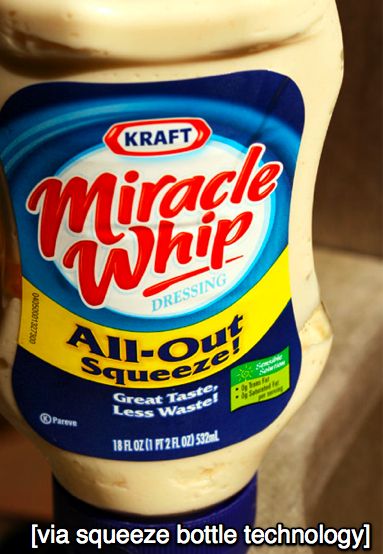 Who has had a more positive impact on society: the designer who designed 'the iPod/iPhone/macbook' or the designer who designed the 'upside down squeeze bottle'?
Note: Carles has 'fixed' HRO and commenting is now available.