I AM CARLES Halloween Blowout Sale.
By Carles on 25 Oct 2009
In this post, Carles will attempt to utilize his web brand as an 'eCommerce retailing outlet', attempting to brand himself as a 'man of the people' by giving his viewership an opportunity to 'buy shit from his brand.'
Carles announces a 'once in a lifetime sale.' Carles announces the 'Halloween Blowout Sale' of the once popular meme, IAMCARLES. This sale is meant to target people who 'want 2 be Carles' 4 the popular holiday 'Halloween.' For a limited time, the IAMCARLES shirt price has been 'fucking slashed' to $22.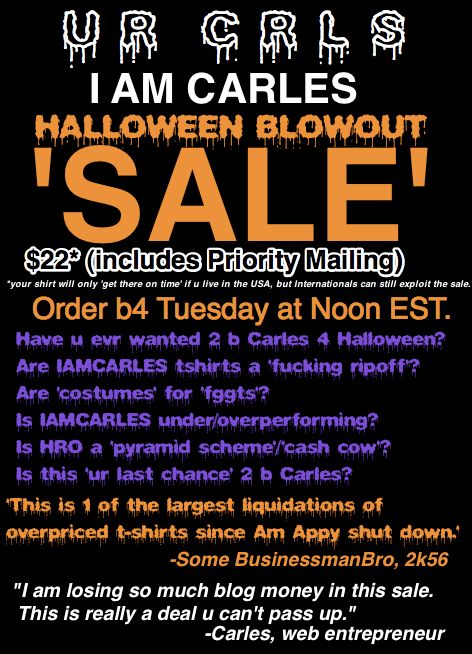 Ordering before Tuesday means that you will get your I AM CARLES at a discounted price. Your shipping will be 'upgraded' to ensure delivery before the Saturday holiday. This is your 'only chance' to get a 'sweet deal' on the IAMCARLES shirt before they are all gone. It feels like I have 'sold a lot of them', but still need a 'sale' to liquidate inventory/ rejuvenate potential interest in t-shirt ownership.

This type of sale will surely 'do in' the last of the of IAMCARLES t-shirt inventory.

Who will u be 4 Halloween?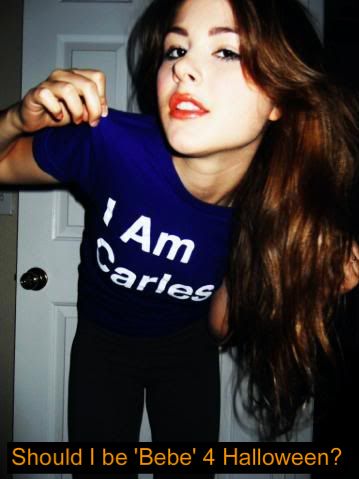 'Am I getting a good deal for $22?' 'Is Carles worth supporting?' 'Did Carles empty out his annual trustfund stipend before the year was over?'
Is the IAMCARLES tshirt a bad Halloween costume idea?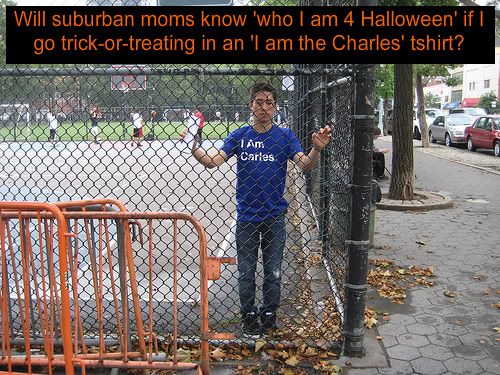 I AM CARLES HALLOWEEN BLOWOUT SALE--a concept 'sale'
Goal: 2 get ppl 2 buy tshirts and be 'carles' 4 halloween
Gimmick Pros for shoppers: Discounted Price, Upgraded shipping
Cons: Still potentially 'overpriced.'
Fun ideas: put fake blood on Carles shirt, and u can be 'Carles after a Juggalo killed him'
Price: $22 (includes expedited shipping)
Buy Now at this URL: http://iamcarles.com/

'On Halloween, u will put on ur IAMCARLES shirt, and transform into a relevant blog. This is the perfect costume for the modern world.'
CARLES PROUDLY ANNOUNCES The Teenz 4 t-shirts program
Carles has also heard many stories about teens with no debit cards/paypal accounts/etc. He has launched the T-shirts for Tweens Program, which is dedicated to the mission of giving under-18-year olds the same consumer opportunities to 'waste money on internet products.' The program is meant to enable teens to purchase Carles goods through non-paypalian methods.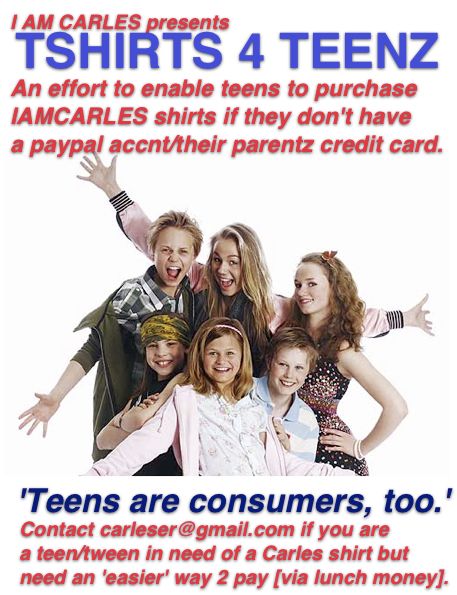 Please contact me at carleser [at] gmail.com if you are a teen/miscellaneous adult who does not trust 'online commerce.' When was ur first bank account/debit card? Do u wish u could only use cash so u couldn't 'waste money on shit' on the internet?

Visit I AM CARLES.com now to participate in this sale.
http://iamcarles.com/
'The Brand is stronger/weaker than ever, and we must capitalize b4 we all die.'
-Jesus Christ, God, and the Virgin Mary in a 'branding' strategy session
'I honestly feel like I am still creating compelling content when I make a whore-ish post.'
-Carles, commenting on the state of the blogosphere/journalism/music criticism+tastemaking
Will u be Carles 4 Halloween?


Sale ends on Tuesday.