What are the perks of being in a relevant buzzband? What are the pitfalls of being in a relevant buzzband?
By Carles on 12 Nov 2009
I just watched this new video made by the Washed Out Bro (aka Ernest Greene). In the video, he showcases HD video footage of his honeymoon, featuring his newly acquired wife, on their vacation to some exotic location. You can see the beautiful images while listening to a promotional chillwave track. Juxtaposing the smooth sounds of chillwaves are a series of telephone messages from people who are looking for Ernest.
It's kinda weird how once you become a relevant, marketable product, covered by all of the most relevant eCommerce recommendation sites (altblogs), so many people want stuff from u. Whether it is a record label (Modular), a brand that puts on alternative concerts (the KIA soul tour), a 'relevant booking agency' (Billions), a pseudo-buzzband (Josh from the Small Black), miscellanous bros who 'want something from u', or even just friends, it seems like every1 wants a piece of Ernest Greene.
However, WashedOutBro is 'chilling' on his honeymoon with his wife. He is only accessible to the woman that he loves.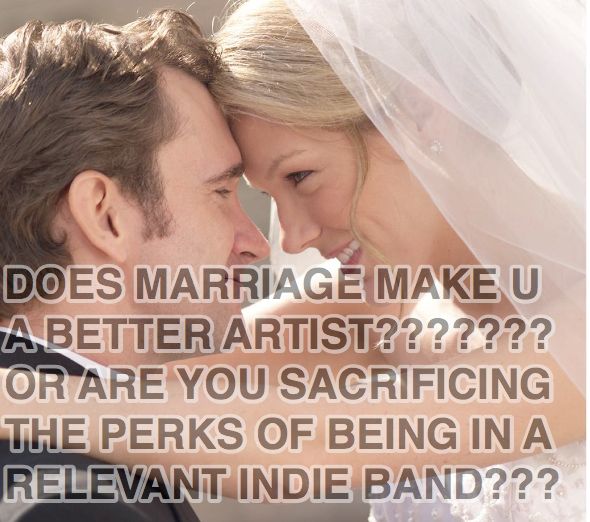 I wonder if 'having a wife/serious GF' makes you a better artist. Like you can focus on your craft, instead of seeking out rewards [via tugjobs] from entry-level alt fan girls at every stop on your North American tour. I feel like we could call this theory the AnCo Relationship Theory. All three members of Animal Collective are in 'serious relationships/marriages' (some with kids). It seems like they have only become 'mad relevant/successful' since they have found people who probably give them the space and support system that they need to be 'artists.'
It's kinda weird how Washed Out 'gave up on alt celeb perks' before his touring/entire career had even taken off. Do u think he will begin 2 regret 'what could have been', or will he be happy with his decision since it will allow him to 'truly chill' for the rest of his life?
Maybe the chillwave genre is more about 'moving forward with family values' as opposed to 'escapism' [via chilling]. Maybe chillwave is more about 'chilling with a wife' as opposed to 'chilling with a group of bros.' Maybe chillwave will help the former altbros of electro begin to transition into adult life.
What would do if u were in a budding hype-band? Would u 'use it to get alternative sex'? Would u try to marry some1 who 'knew u before u were an alt celeb'? Would u try to marry some1 who 'only loved u because of ur status as an alt celeb'? Were Ben Gibbard + Zooey Deschanel married for 'public relations/marketing' purposes?
When u become a buzzband, so many ppl who u don't know 'want something from u.' Maybe u just need some1 who wants/likes/loves u for u, even if you weren't a buzzworthy, monetizable artist.
See unwatermarked photo here.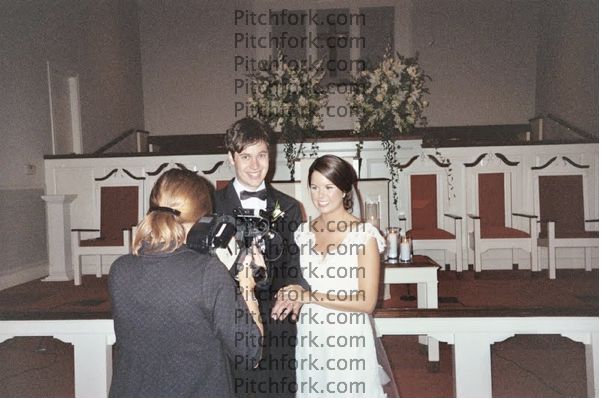 (wonder how much pitchfork paid for these exclusive wedding photos. wonder when an alternative website will pay for baby photos. Can't believe the alt blogosphere has entered the paying for wedding/baby photo meme era.)
Wondering if Panda Bear 'invented' chillwave back before we even knew it...
[MP3]
Panda Bear Untitled (eventually AnCo's Guy's Eyes)
I really want to do just what my body wants to
I really want to do just what my body needs to
I really want to show to my girl that I want her (and I do)
I really want to show to my girl that I need her (and I do)
If I could just hold all the thoughts in my head and just keep them for you
If I could just purge all the urges that I have and keep them for you
I really want to show to my girl that I need her
I keep it locked right now
Need her
-Panda Bear/Animal Collective
//////feeling it all around
////maybe being alt famous/artistically relevant is not a gateway to a meaningful/sex-filled life...
////maybe u need to 'shack up' with some1 before u r 'successful.'
////LoVe iS a HiGhWaY