Has Chillwave Gone TweenStream?
By Carles on 03 Jan 2010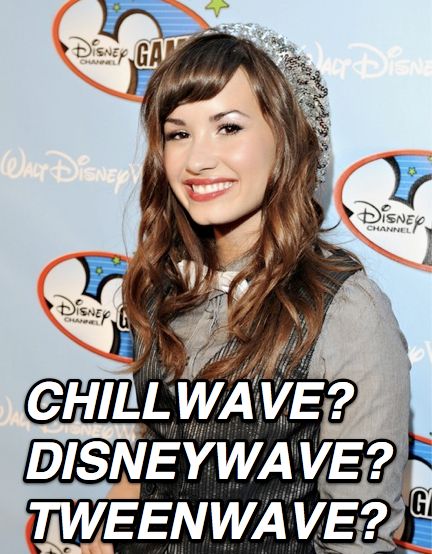 Yall might be familiar with the popular tween Disney sensation 'Demi Lovato.' She is basically the 'latina Miley Cyrus', meant to appeal to the Disney tweens who have minority bloodlines, giving them a reason to 'dream' that one day they can be kinda white & famous, just like Miley/HannyMontanny.
Recently, I saw her tweet about her new favourite song, Neon Indian's "Deadbeat Summer", possibly the feel-good hit of the former year '2k9.'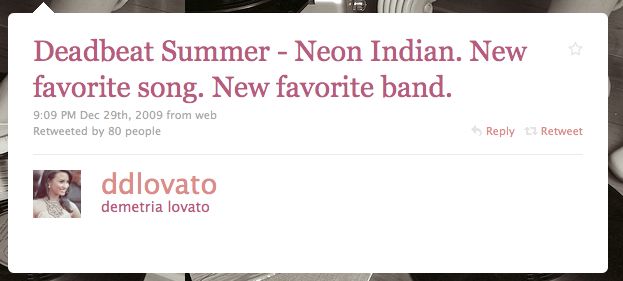 It seems like she massively approves of this former indie-'it'-buzzband, and Neon Indian will soon be on iPods of tweens all across the country. For all we know, she might 'throw down a sweet collab' with Alan "NeonIndianVegaBro" Palomo, then they will have an on-again-off-again relaish that plays itself out in the tweenbased tabloids.
Because of these new fans, Neon Indian's next album may or may not outsell any AnCo debut, and prove to be 'music that tweens use to experiment with drugs.' As we learned from the 2k0s decade and the success of Radioheadian legacy, it is important for the legacy of a band to be 'music that an entire generation listened 2 when u first started experiment with _________(drugs/alcohol/handjobs)' so that it can leave ur fans with a bloated legacy. People will associate ur band with positive memories of 'feeling alive/free/open-minded' 4 the first time.
Feel like I h8 the 2k10s already. Like I'm losing everything that once belonged to me. Next thing u know, Lance Bass/Moby will join AnCo. Next thing u know, the XX will be tweeted about by Ashton 'PUNK'd' Kutchers. Next think u know _________(band that I haven't heard yet) will be blogged abt on pitchforks.
Wonder if she and the Jonas Brothers will team up to write some chillwave influenced songs in 2k13. (h8 this decade already)

Seems like Demi Lovato already lives a 'chillwave' lifestyle.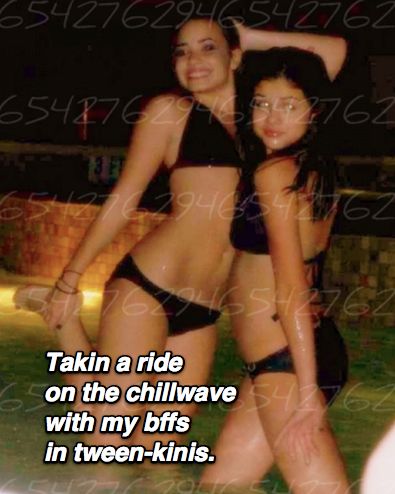 Recently watched her music video, "La La Land", a song about tween alternative individuality. In the song, Demi Lovato sings, "Who said I can't wear my Converse with my dress ....Well, baby, that's just me..."
The song has become an anthem for girls who 'wear tshirts' instead of 'short skirts' [via Taylor Swift metaphor abt the spirit of individuality].
'Guess we lost another 1, yall guys...' -indieBro after the Kings of Leon went bro-stream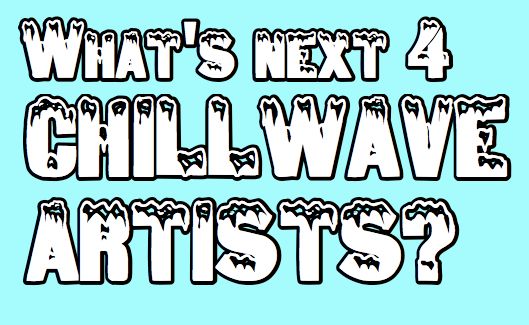 [via http://www.hipsterrunoff.com/2009/10/the-evolution-of-the-chillwave-genre-whats-next-4-chill-wave-artists.html]
Chillwave music
So 2k9....
Afraid of losing everything
that once made me 'me'
2k10///losing my edge
to all of // the tweens ///
in Hot Topic // post Nappy Dynny ///middle America // outdoor mall
meltdown