An Entry Level Guide To Chillwave: The Latest Post-Indie Genre That Every1 is Talking About
By Carles on 23 Apr 2010
Hey yall. I still have a weekly show on Sirius XMU. Do yall listen 2 it? Do u give a shit or just want 2 read blog memes?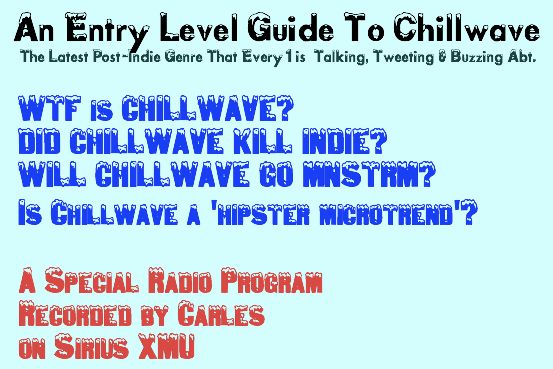 I did a special on 'the emerging genre of chillwave' for them. I think it is basically meant to explain 'why chillwave is so buzzworthy' to rich people who can afford satellite radio, but just casually listen to 'indie rock' instead of following it intensely on the internet.
Here is the Generic Info:
SIRIUS XMU to Broadcast Special on "Chillwave" Music Genre
Carles, SIRIUS XM Blog Radio host and creator of the popular indie culture blog Hipster Runoff, will present "An Entry Level Guide to Chillwave" on SIRIUS XMU. Carles has been credited with coining the term "Chillwave" to describe bands like Washed Out, Toro Y Moi, Neon Indian, Small Black and Memory Tapes. For this SIRIUS XMU special, Carles will select the music and detail the brief, but influential, history of this emerging sub genre of indie music.

The "Chillwave" special will premiere on Friday, April 23 at 6:00 pm ET and will be rebroadcast on Saturday, April 24 at 9:00 am and 3:00 pm and Sunday, April 25 at 12:00 am, 12:00 pm and 6:00 pm (all times Eastern). Carles can be heard every Monday on SIRIUS XMU's Blog Radio, the music show hosted by a different influential music blogger every weekday at 12:00 pm ET on SIRIUS XMU, SIRIUS channel 26 and XM channel 43.
Show times:
Friday 6 pm ET
Saturday 9 am + 3 pm ET
Sunday 12 am, 12 pm, 6 pm ET
In this audio content, I confront various chillwave issues:
How did chillwave start?
How do u determine whether or not an artist is chillwave?
Do rock n roll critics hate chillwave?
Will chillwave go mainstream, kinda like indie?
Is chillwave a 'ghey ass' / stupid genre name?
Do music journalists h8 chillwave?
What happened 2 'indie' music?