Name That Alt Celeb Lookalike (all black QT edition)
By Carles on 17 Jun 2010
Name that Alternative Celebrity Lookalike is a fun lil game where u have 2 guess which alt celeb this regular alt looks like. Even though regular alts can't be buzzworthy humans, they can at least try 2 mimic their personal brands.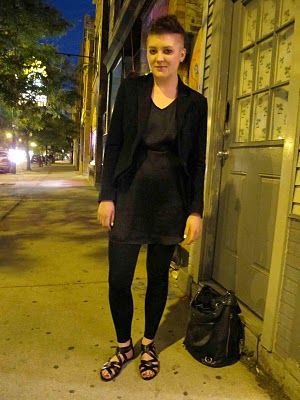 Can't quite put my finger on who she looks like...
Hints:
She is known as 'the Rosie O'Donnell' of buzzband members
Her band usually wears all black
Sometimes her vocals are compared to singers like Chris Isaak, Dido, and other members of the Lilith Fair
Her voice is 'less froggy' than Zooey Deschanel's
She is known for 'showing her tits' in crazy party pix
She is married to another member in her band
She has an Agyness Deyn type of vibe
She is a huge fan of England in the World Cup, tweeting that 'the Americans should fucking die'
She loves social media, and even has a friendster profile
Many say that the man in her band 'carries the weight', and she is just used as eye candy
She sometimes uses autotune rap.
She was great on Fallon
Who do yall think she looks like?
Really need yalls help.

The person who correctly identifies her will receive 500 runoff points redeemable at the iamcarles web shop.