A list of people on the cover of the new Sufjan Stevens EP
By Carles on 24 Aug 2010
Sufjan Stevens recently released the hit indie EP, The All Delighted People EP. A lot of people have been emailing me, asking, "Yall who is on the cover of the Sufjy EP? So many faces... Just wish I could figure it out. Seems like it might tell the complex story of Sufjan Stevens' life. Wonder if it explains who he is as a musician/indie buzzband/human being."
Who are all of these bros on the Sufjan Stevens EP cover?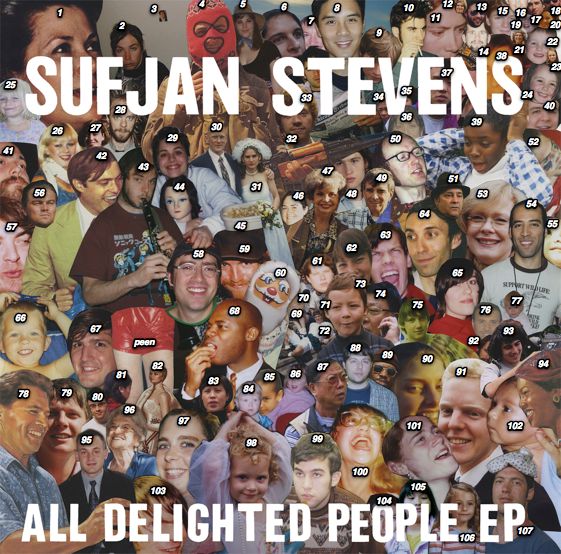 1. Sufjan's ethnic maid who cleans out his buzzband loft space
2. Goth teen who Sufjan befriended Sufjy outside of a Hot Topic in 2k6
3. Sufjan's high school photo. What a dork, yall!
4. The leader of Sufjan's parent's Christian militia cult
5. Sufjan's landlord. Kinda helped him out a lot b4 he got rich.
6. Christian Bale
7. Guy who Sufjan used to 'play hookie from school' with
8. Jeff's first AZN friend
9. Jonny Taylor Thomas [via JTT]
10. The guy who fixes Sufjan's lil yellow van that he purchased after Little Miss Sunshine
11. The first 'pair of titties' that Sufjan fondled during adolescence
12. The first 'grown up' that Sufjan
13. Lenny Kravitz
14. Sufjy's All-State insurance broker
15. the CEO of bandcamp.com
16. Sufjy's first twink that he keeps enslaved in his 'sex dungeon'
17. David Duchovny, star of the X-Files
18. the Hit MP3 'I want to Fly Away' by Lenny Kravitz
19. the cast of the Golden Girls
20. Prostitute / P.O.W. who saved Sufjan's life during Vietnam
21. Sufjan's first illegitimate son, Sufjan Jr.
22. Sufjan's first illegitimate daughter, Sufjette
23. Sufjette Jr. the III
24. Another 'roadie' claims this is his child. Has not taken paternity test yet
25. A child that Sufjan abducted from a local McDonalds playground
26. Erotic porn star from the 1990s who took Sufjy's 'beating off' virginity
27. Sufjan's college dorm Resident Adviser. Was super chill abt 'drinking' in the dorm room
28. Chris Martin from Coldplay, huge influence
29. Sufjan's step-sister who his stepdad forced on this cover
30. Sufjan's domineering father
31. Sufjan's dad's mistress who he left his mom for and married
32. Dude from Pete & Pete
33. a young Bobby DeNiro
34. Local AZN dry cleaning bro
35. Dry cleaners AZN employee. 'Light on the starch' -sufjy's pants
36. 14 year old sniper who Sufjan was forced to murder during Vietnam to prove to his brigade that he awas a 'real man' who hated commies.
37. Class Bully who made Sufjy's life hell in middle school
38. Jeff Goldblum
39. Sufjette IV (illegitimate child)
40. Guy who Sufjan used to emotionally bully
41. Young Santa Clause
42. Sufjan's high school music teacher
43. Guy who Sufjan got 'experimental' with at band camp
44. A 'fuck doll' who Sufjan treated like a real human for _ years.
45. Sufjan's favorite casserole
46. Sufjan's life coach
47. Sufjan's Grandma
48. Sufjan's angsty teen little brother who the entire family is 'somewhat ashamed of'
49. Sufjan's grandfather who gave him his first banjo
50. The bass player from Vampire Weekend
51. Emerill (Sufjan loves the Food Network)
52. Pat Tillman (R.I.P.)
53. One of the Golden Girls again
54. Guy who Sufjan Stevens stole his first songs from
55. Another road baby (so hard 2 be an indie musician)
56. Leonardo Di Caprio--Sufjan's biggest celebrity crush
57. Noah Lennox (Panda Bear
58. Guy who made Sufjan's myspace layout
59. Bam Margera (Sufjan was an original cast member of Jack Ass)
60. Santa Clause 'fuck doll'
61. Serial Killer
62. indie stalker who won't leave Sufjy alone
63. A cool dad from Pavement
64. Sufjan's Weed dealer
65. The girl who runs the Sufjan Stevens Unofficial twitter account
66. Son who is Sufjan recently found out was 'not his' after going on Maury Povich
67. The bass player from the Strokes
peen: Sufjan's erect peen in some cute lil shorty shorts
68. an NBA Basketball player, possible LeBron James
69. 90210 Cast member
70. a ninja
71. hornie bro
72. hornie bro spread eagle
73. Sufjan's son with his first wife
74. AZN guy who gets Sufjan black market audio equipment/cute, fake designer purses
75. Sufjan's old hunting buddy
76. Guy who works at AT&T store
77. Newborn illegitimate son
78. Guy who owns Sufjan's fave organic California-style burrito restaurant
79. Deakin from AnCo
80. Johnny Knoxville
81. Illegal immigrant who Sufjan employed for 2 years before she was deported when he outsourced banjo work
82. Kim Kardashian--Sufjy <3s junk tv
83. woman from Sufjan's cult
84. Kid who wandered into the Sufjan compound, not sure who he is
85. Kid A
86. 2 many kids, yall
87. The dictator of South Korea
88. Daniel Gill, CEO of Forcefield PR
89. Samuel L Jackson
90. Sufjan's dental hygienist
91. Mark Zuckerberg
92. the cobrasnake bro
93. Photographer teen who travels with Sufjy cuz he ran away from home
94. Aunt Jemimah--Sufjy <3s pancakes
95. Youth group leader from Sufjan's teen church with modern themes
96. The lady who taught Sufjan how 2 play banjo
97. Tonya Harding
98. Sufjan XXI
99. Guy who is plotting the assassination of Sufjan
100. An 'effing hipster' who Sufjan is making fun of
101. One of Sufjan's three wives and five husbands [via progressive cult]
102. Sufjanito
103. Jack Black--Sufjy <3s Tenacious D song structures
104. Unidentified AZN man
105. Sufjan's Body Guard
106. The World's youngest Sufjan fan
107. bro who has the flu
Do yall know who any of these people are?
Did I miss any1/mis-identify some1?
Just wanna get to know to know Sufjan... Maybe his stories are in his music, but 'wanna get to know more abt him' so I can determine whether or not I wanna ride the folkwave with him. Seems like a 2k5-2k7 type of genre, but Sufjan might be so keut and dreamy that I will look into his eyes and get swept away (as opposed to some bro with a mangled beard).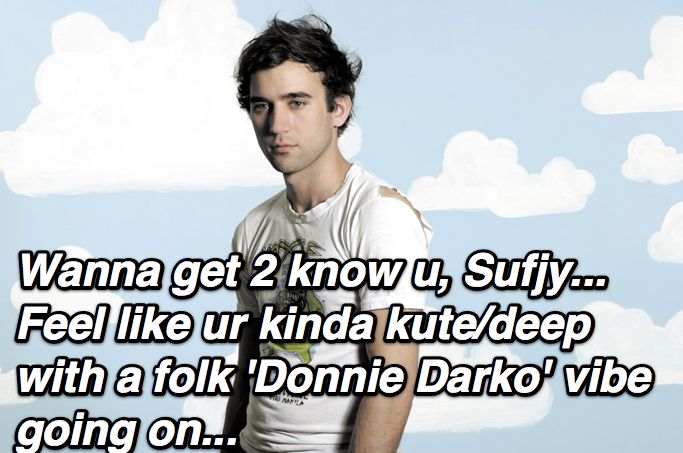 Do u think this album cover tells his life story?
If u made a collage of people in ur life, would it have 500+ people or 1-10 people?
R u disappointed by this EP, or are u gonna ride his folkwave?
Does Sufjan Stevens have a 'high level' personal brand, or do u want him to develop a little bit more as a human meme indie celeb? Should he start a twitter or something? [via M.I.A. theory]
Do yall like Sufjan's collage on his album art, or do u wish he had a chillwave jacuzzi party with a bunch of 'underaged kids' + a collective of animals, similar to the cover of Panda Bear's Person Pitch? (Wonder if these are Noah Lennox's illegitimate kids).


Do yall know if more indie celebs have illegitimate road children (similar to professional athletes), or do the girls who have the babies 'abort' because they know buzzband members usually aren't rich?
Buzzband, Alternative Celebrity
Sufjan Stevens used to write meaningful folk-sounding anthems, but then made an electro album.
Read more>>>>