The World's Biggest Lady Gaga Fan: SHANNON GAGA UNCOVERED
By Carles on 12 Aug 2010
Have u met Shannon Gaga? She is arguably the world's biggest Lady Gaga fan.

Shannon Gaga: The Dead End of Western Civilization
An In Depth Profile Piece by Carles, freelance journalist and Editor N Chiefs of HRO blog
In a previous article of writing, I asked the world, "Who is the world's biggest Lady Gaga fan?" I wanted to know about a fan who completely outsourced her personal brand to Lady Gaga. Who had the balls to become 'more than just a fan', completely dedicating her life to Lady Gaga. What fan truly 'gets' Lady Gaga and has become an unofficial spokesperson for Lady Gaga?
Meet Shannon Gaga. More than just any other Lady Gaga Fan.


Some say she is 'completely out of touch with reality', but her new found fame will have her coming into a living room near u on ur television sets. She is an avalanche, picking up steam, rolling down the pop culture mountain ready to slam in ur face.
The story of Shannon Gaga is about a girl from Corpus Christi, TX, who evolved out of her cocoon into a beautiful butterfly, all by being exposed to the positive female messages transmitted by the art of Lady Gaga.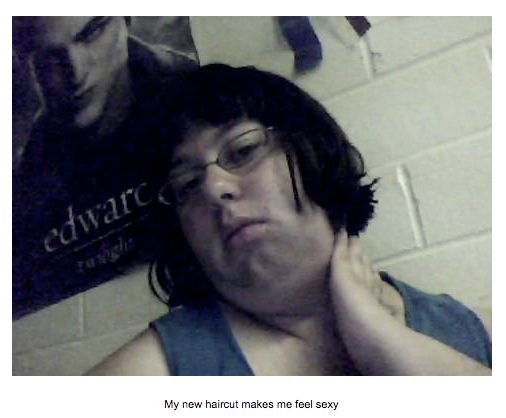 It all started with 1 lofi vlog in the dorm room of Shannon Annette Cantu's Texas State University dorm room, but through months of hard work and tons of high level exposure, it has become something more than just a youtube sensation or a story of the week. She is truly an individual who is also a lot like Lady Gaga.
Eventually, she became a bonafide super fan celebrity. She decided to take her brand to the next level by making a series of sexy videos and doing live performances around town. Her confidence grew with each show, and brought us modern marvels, like this video, where she rolls around on a campus volleyball court, pretending that the sand is a sexy beach, forming Gaga-esque sexy vibes for all of us to be inspired by.
Understanding Shannon Gaga is about as complex as understanding the Real Lady Gaga. Here is Shannon Gaga's manifesto, taken from her blog:
Manifeso

People are wondering who is "Shannon Gaga?" But that remains to be said. People have asked me 'Why Lady Gaga? What makes you so interested in her?' She inspired me. She changed me. I looked at my old journals, my old life and some old pictures and say, 'How did this happen?' Why didn't I choose Britney or when I was younger do Hilary Duff (which was a long time ago). Because GaGa did what she did. She changed me. As the song from Wicked says, "I have been changed for good..." I am sure, that whoever reads this, is either a fan or a hater. Haters-I don't think you "hate" me. We just use that word now. In fact, most of you probably dislike something about me. Maybe that I'm a big girl. Maybe that I like Lady GaGa a lot. Maybe that I love to perform and not ashamed. I'm pretty certain there are some that dislike me, because they disliked me in high school. They didn't know who I was. I just was a student at King High School. Or maybe I was smarter than you or something else. Who knows? I'm certain that if I just went to class, like Comm 1310 or something, and did 'normal' stuff. I'm pretty sure, you'll not like me either way. I am living life to the fullest. Some of you don't understand me. Well, I am a complex person. I think differently than most people, I now VERBALIZE my emotions more, and even though I may seem shy and weak every now and then. There's a tough girl behind that sweet, innocent facade. You know what? I'm doing this for fame or attention. I don't care about fame or money anymore. Fame, is something that just happened along the way. Fame is a ride-sometimes smooth like on a road, and sometimes it an emotional roller coaster-with jerks and twists and turns. And money, that's just whatever. Yes, I need money (as we all do) but it's not everything to me. Or fame. I never expected anything like this to happen. So, if you're reading this, you will know more of me. I usually give people changes-I try not to judge people. I don't care about what race you are or your sexuality or your size. Those are just labels. You all, have your ideas, of normal, and sometimes normal isn't good enough for anyone. But remember, I am Shannon Annette Cantu "Gaga" and I am proud of who I am. And whether I'm famous or not, whether I'm fat, skinny, big-boobed, or whatever, you can't change that. And Gaga, if you ever read this, I hope you learned something about me. Just like you taught me about you.
Love Shannon "Gaga" Cantu, Princess Monster
In addition, here is a selected tweet from her twitter account, @ShannonGaga20



It seems like Shannon Gaga has truly become a top tier celebrity, soon to get a record deal and end up on MTV. Fans seem to have a natural affinity towards her story. She is an artist of the people, inspired by true life and real sexual desires.
Shannon Gaga is more than just another fan. She is not just a 'Little Monster', which is what Lady Gaga calls her fan. She is a big monster, and a force to be reckoned with.
It seems like she has become a micro celebrity in the San Marcos / Austin central Texas scene. In this video, members of the campus community react to her brand since they see her wearing Gaga gear all around campus. Some say that she is truly a free spirit. Others claim that she is 'borderline retarded', and doesn't realize that people are only really laughing at her.
Just watched her get interviewed by a local radio show. They seem to keep 'cyber bullying her' about her weight, and ask her why she is wearing such a slutty dress, even though she is a massive human being. Then she gives an inspired live performance, showcasing her true vocal talents.
Does Shannon Gaga fail to 'get it', or do we fail to 'get' Shannon Gaga?
Shannon on Shannon:
Some people question if I know who Shannon is. Well, sure I do. Shannon (I'm only referring to myself in third person for emphasis) loves to perform and dress like GaGa. And no, I don't think I"m Lady GaGa. I want to be like her, but that's it. This is how I thank her for putting me out a comfort zone for helping me step out and stand out. I hated the way I was ignored all the time, and that I was doing what others wanted me to do. Then, I changed. I think the day I chopped my hair off was the day I became Shannon "Gaga" Cantu.

That was the first time, I think, ever that I did something, that I wanted to do, that was out of my comfort zone. Having short hair...for you see...I was raised to hate short hair, like I had a really "bad" experience when I was young...I had really long hair and my dad didn't have the time to cut it, so he cut it short, in fact the same cut, that I've had since September-ironically enough. I actually at that time, had plannned on chopping my hair off for a long time, and I acutally liked that style that I had hated as a young girl. But I liked it now.
People need to realize that it wasn't Lady GaGa that peformed at George's at Karaoke Night, the SSG wasn't the the Support Super Gaga group...it was my choice to keep going....and I could have said no to performances and appearances and newspapers...but I wanted it kind of.....the experience. You live life once....now keep going....
Her live performance has been reviewed as "Simply Tremendous" and "Can't Miss this, yall!" by many local newspapers. This video showcases her dancing with some little mexi twink at a highly attended live performance. You can feel her energy, picking up allusions to Lady Gaga, but not being a complete rip off.
It seems like 1 time she went to a Lady Gaga concert. This is her recap of the vibes she received from other fans waiting in line to see Lady Gaga:

I arrived around 11 or noon (Not sure) to get a good spot in GA. I came wearing a white wig, silver zebra flats, orgiami dress, bold makeup, and carrying my zebra purse and sunglasses and disco-stick. I knew my intent-my goal-to get Momma to notice me and to have an amazing Gagalicious time. To have the time of my life. The highlight of my "Shannon GaGa" stuff and I recall one of the reasons why I was able to see Lady GaGa in concert was because of my fans. Which in a sense, is why I've gotten so far. But also, hard work, determination, and a love of performing. I took my spot on the ground outside and I learned right away that sitting was making me sweat more than standing so I showed my "Book of GaGa" I made and everyone liked it. A girl told me,
"Dressed like that, you're goin' to get noticed..."
At the time of my arrival, I saw very little monsters dressed in 'full gaga' costume when I was waiting. I was the only one with a disco stick and origami dress (of what I saw) and so I did. I started being noticed by the Little Monsters first and a few even recognized me as "Shannon GaGa." But for the most part no one knew of my endeavors or my performances. I did tell people about that and I was interviewed by five news stations because I stood out. They didn't just interview just anyone-they interviewed people that have the confidence to stand up and be interviewed and photographed. One asked me,
"What do you expect in this concert?"
I said,
"Lady Gaga wows me on TV, so I know she's going to wow me live...."
I said that because she DOES wow me and it makes me wants to see her live. I wouldn't be waitin' outside for nothin'. They asked me questions like,
"Why are dressed like Lady GaGa?"
"How does she inspire you?"
"Why do you like her so much?"
Questions, that I frankly, I am tired of being asked. But the people don't know that becuase I am today-just Shannon, the little monster. And if I see some of my fans, then I am Shannon Gaga to them. I showed my scrapbook to evveryone and one of the stations video taped me showing it off. I guess like Gaga has a tea-cup or hair-bow in her hand. I will always have a book in my hand. I've always be that way-even before I was famous. I want to be associated with having a book in my hand. The BOOK of GAGA is MINE...and it's for GAGA! And I made it-adding to it-whenever I could-now I have to go online tomorrow and print out pics from the library. All these "articles" and "pictures" are a sign of my change. To be honest, I didn't even have to mention anything about Shannon Gaga to be noticed. I just came in as a little monster. I didn't make it about me because it wasn't-It was about the woman who changed my life. Lady Gaga, Momma Monster. They played videos of GaGa's to keep us little monsters entertained while we waited. They finally played "Bad Romance" and I ended up dancing while waiting in line. I did the Bad romance dance and "performed." Anytime a GaGa song plays, I have to 'perform' it. Whether dancin' or singin'. I shall be a little monster forever..One of the answers, I gave, which was probably till the end, when I had loosened up-because when I arrived, I was a little nervous (I don't know why, maybe because of Momma being so close to us)
"Lady GaGa has inspired me to step out of my comfort zone and stand out. If I had come a year ago, I'd never have had the confidence to do this...."
What else did they want me to say?
'Lady Gaga is totally awesome???' or 'She's SO awesome!" That'd be cheesy, obvious and with no feeling.
I mean, yes, I think my answer was more of answer of WHY I think she's awesome and amazing.
Lady Gaga said during her show,
"People told me I was never good enough, never pretty enough, and told that I would never become a superstar, but look at me now, I"M a superstar! And you are all superstars...I want you to leave the Monster Ball loving yourself more...don't leave her loving me more....love yourself more...."
I think because I came to the event the way GAGA would, acted like a superstar and was confident in myself, I got treated like a superstar. I'm realizing that it came from confidence. When I stopped caring about what people thought of me, that's when I Really blew up. I think waitin' in that line and then goin' to the Monster Ball changed me. I think I did take to heart everything Momma said. Maybe bein' a little monster that was at the concert and makin' news just because it was fun. I mean, I've done before (even in heat IE Pride) I think, as I've said before, I've been me, I just love to perform GAGA.
The truth is, there are many perks to being famous. One of these perks is birthday cakes:

However, u do give up privacy when ur famous. U can't even go 2 WalMart without being bombarded for pix.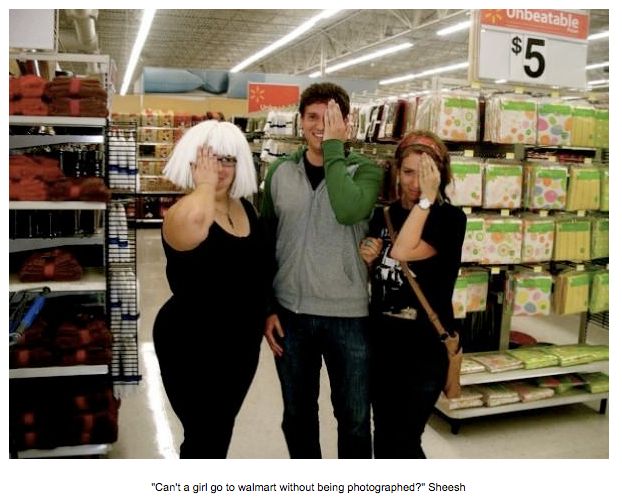 What makes it all worth it is having a fan base who would do anything for you.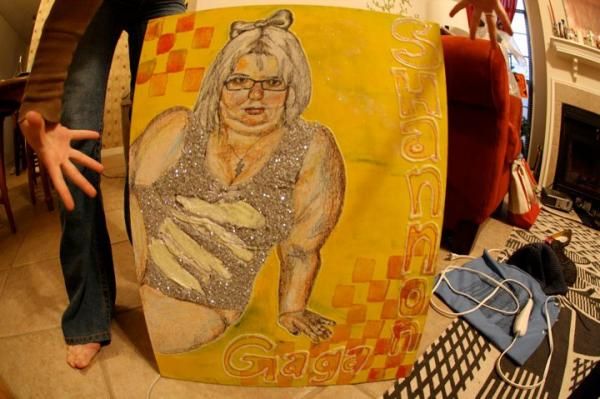 Red Carpet events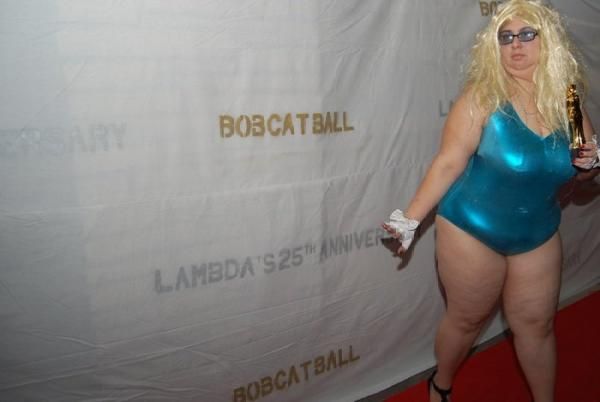 High-End Fashion Events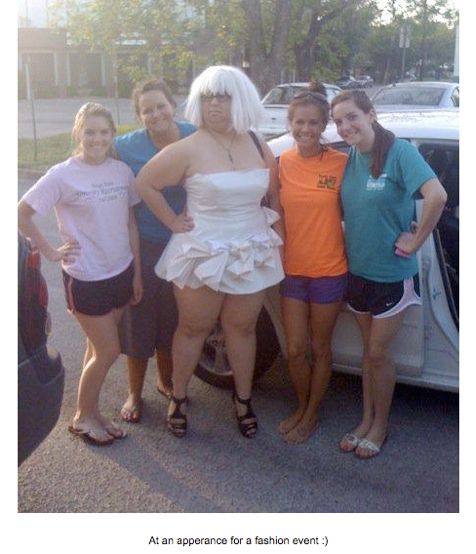 But you can never forget where you came from, a small dorm room. A girl with a dream. This is the Shannon Gaga story.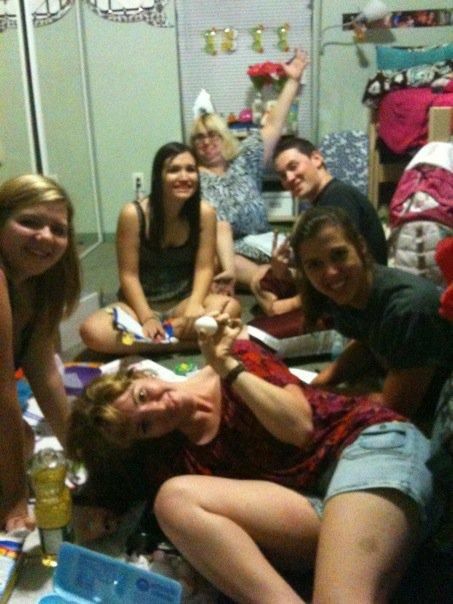 Don't hate on her because she's 'big.' She is an individual, and she is proud of her body. Those who fail to understand this are simply 'haters' who do not stand for creative minds.
Appreciating Shannon Gaga means appreciating her struggle. Her fight to overcome. The truth is, famous people come from somewhere just like you. You are probably job hunting, searching for a good career and happiness. Shannon Gaga was once like you. In a blog post entitled "Economic Times Are Hard For Even Me", Shannon Gaga details her job hunt:
I have been job hunting with my friend TJ, mostly for extra money, but we want to eventually pay our own ways in an apartment we plan to share. If we share the cost of the apartment, rent and food would be doable (and gas). However, job hunting is at its worse. I have applied to everywhere except my former job that I used to work at McDonalds.I even applied several places to the mall and when following up, the hiring manager is not there. I'm pretty much fed up with that....now I've put an ad in craigslist for babysitting. I like being around kids, especially my niece and my little brother, Naurice. I do make a meager allowance of 10-20 dollars a week just for doing chores such as sweeping/vacuuming the whole downstairs and upstairs. My dad has a system-really dumb if you ask me, but to him, it's effective. One star/circle=one dollar. And thing is, for one star you have to vaccum AND Sweep the whole downstairs. I mean, it's not a small downstairs so it takes a little while. And washing and drying is one. Washing and unloading the dishes applies too...so really, you'd have to do a LOT of chores just to make $20 dollars. I mean, I do the chores because at the moments, because it's my only income. Hey, when you're a person with no job and you want to make money, sometimes doing chores for meager money is the only option. I mean, I haven't given up yet. Who knows? Maybe I WILL find a job. My dad says to go to a temp agency. But I honestly am not really sure what to do anymore on the job front. I wouldn't mind performing to make some money but it takes a lot to plan a show, get equipment, and all that.
Do u wish u had Shannon Gaga's performance incentive allowance system?
Should Shannon Gaga go to a temp agency?
Will Shannon Gaga raise enough capital to buy a lighting rig for her show?
The truth is, we are all humans, all wanting to be inspired, all of us wanting a reason to live for so much more. Only true trendsetters like Lady Gaga and Shannon Gaga can inspire this out of traditional human beings like you and me.
Will Shannon Gaga ever get to meet Mama Monster?
After I left, I took some more pictures and waited for my dad. After the concert, I realize two things, that being Shannon GaGa, being a performer, and doing what I've done, was for me, my happiness, doing what I wanted and realizng that my dream was to meet Momma Monster. I realized that the "fame" I had-I didn't ask for it. It just happened. I started performing in front of five people and got nervous. Now I can perform in front of 500 plus people. I mean, all this fame and attention, is nice, since I pretty much disliked most of my school years. Yes, I have fame, but it doesn't matter. And money, (yes I need it, but it's not important either. The more I think about it, it's Momma Monster...and how I've changed. The Monster Ball really does change you. I'm glad.
"You can be who ever the f*** you want to be...."-Lady GaGa

Thanks, Momma. I love you <3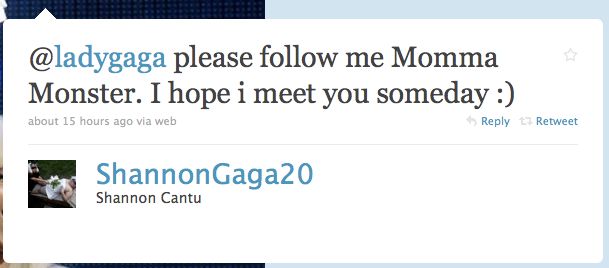 The truth is, we are all searching for a Momma Monster. While many people might find Shannon Gaga to be a disgraceful human being who embodies everything wrong with uninspired lower-middle-class Americans, the Shannon Gaga is a story that can inspire us all. Inspire us to be ourselves'. Inspire us to raise free spirits when we have children. Inspire us to let ourselves' be inspired by pop stars, and not just get caught up in vicious trolling blog + message board pop culture trends.
Maybe in a way, there's a little bit of Gaga inside of all of us. Maybe we're all, little monsters...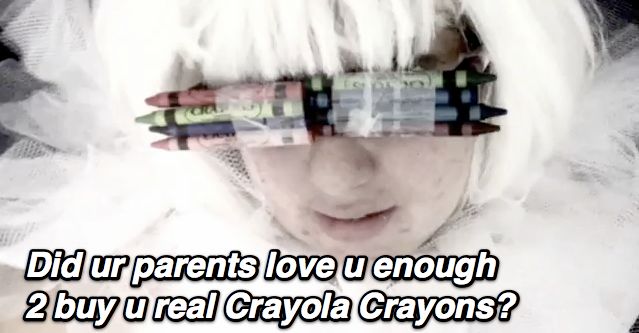 Do u buy into Shannon Gaga's fame?
Do u think she is the perfect example of what happens when 'micro-fame' happens to an uneducated human being?
Is she just having fun, living her own life, or is there 'something wrong with her'?
Does Lady Gaga promote individuality, or do lower-class Americans misinterpret her messages?
Did Shannon Cantu's parents do a bad job raising her?
Is she too 'heavy' to be wearing her Gaga outfits?
Do u wish u got to roll around on a beach volleyball court with Shannon Gaga?
Do u hope Shannon Gaga turns into a bigger meme so that local news shows can 'cover her' and 'go viral', giving blogs content 2 make fun of her?
Does Shannon Gaga inspire u?
Do your parents not understand you, kind of like Shannon Gaga?
Do u want to follow ur dreams and become famous?
What vibes do u pick up from Shannon Gaga?
Do u relate to her?
Do u wish u had a legion of 'monsters'?
Should we all be allowed to 'follow our dreams' and 'express our true selves', or should some of us just be required to work at Taco Bell?
Is Shannon Gaga the Biggest (Physically and Spiritually) Lady Gaga Fan on the planet?
Now that u have seen Lady Gaga's biggest fan, do u feel like u understand 'pop culture'?
Shannon Gaga: The Dead End of Western Civilization

XX BONUS BLOOPER XX
Scared.