The Manifestation of the Great LoFi Hope
By Carles on 14 Dec 2010
"Naah Nah Naaawww Naahhhh...
Naa Naw Naaww Naawwwhhh.."
-Ariel Pink, "Round And Round", 2010
[MP3]
Ariel Pink's Haunted Graffiti Round And Round
Ariel Pink
known as 'The Great LoFi Hope'
according to a HIPSTER RUNOFF blog article [link]
posted on March 12, 2010
Today we can celebrate
Ariel Pink
at the top of the indie game
rising above every other mainstream indie band
2 win the title of 'Best MP3 of the Year'
from Pitchfork Media [LINK]
We put all of our hope in2 Ariel_bro
We knew he could do it
We trusted in our tastemaking ability for the last 5-10 years
and this day was inevitable
but that doesn't mean we can't take a moment 2 celebrate
Breathe a sigh of relief in the Kanye 10.0 era
Indie is ours again

Ariel Pink represents the mp3 criticism sphere's chance to get back to their roots of 'loving' something that is in the 99th percentile of cultural authenticity, as opposed to functioning as tastemakers for the late majority of alternative music consumers.
It's been a really scary year in indie music
Kanye West released an album that got a 10.0
and every1 was all like 'indie is dead'
but maybe we forgot abt lo-fi
Who cares abt Arcade Fires, Vampy Weeks, Beach Houses
Ariel Pink is the last white indie artist who 'critics' believe
is 'alt enough' 2 be the 'poster boy' of the modern indie aesthetic
Maybe Kanye West wasn't so perfect after all
Maybe we will always have a 'soft spot' for 'lofi pop'
It will be 'timeless' 4evr&evr

It seems like Ariel Pink might just be the Larry Bird of indie music
He represented 'the Great White Hope'
a white athlete who could 'take back' the NBA
Every person with white blood
rooted for Larry to 'win' and metaphorically 'kill'


I can't believe indie music has rlly turned into
these 'race wars'
but maybe it is what it is
and we should just rally behind Ariel
as the Great White/Lofi Hope
Doing everything we can to get him to 'chart' in the top 10 on his next album debut
Try to build the 2k11 blogosphere with him as the foundation
instead of jokes about AnCo or Kanye West being 'perfect' and 'critically praised'
Ariel Pink has now entered that zone
A product 4 every1

In the post-chill wave / ternative era, we are in a position to finally 'embrace' Ariel Pink. Maybe we have grown up, and learned more about what we want 'good music' to be. It also helps that Ariel Pink is now 'part of the machine' with a record label that will send crazy email blasts to hypemachine mp3 bloggers/find a way to get his face on some magazine covers. He is playing 'by the rules' so that makes it safer to rally behind him.
It honestly feels
like if the hit album The Doldrums was re-scored today
It would approach 10.0 status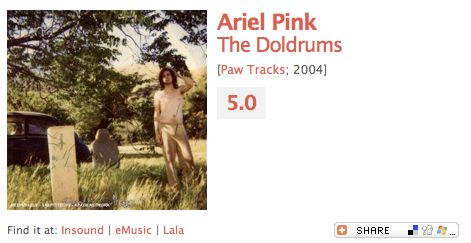 I feel 'proud'
but at the same time I feel 'scared'
Will Ariel 'stay the same'?
Will he 'evolve' appropriately?
Will all of his songs end up in commercials?
Will he 'cut his hair' + 'get a makeover' to appeal to tweens?
Ariel Pink. This is his time to shine. His time to transform into the artist every1 thought he deserved to be. It might be a rare second chance in an internet indiesphere where you usually only get 1 shot. His chance to be more than just another pointlessly acclaimed (yet forgotten) lo-fi artist.
With great honors/rewards/buzz-dollars
Comes even greater responsibilities
'Expectations' 2 re-achieve and re-define greatness
The Great White LoFi Hope has saved White Man's Indie in 2k10
And for that, we can be eternally thankful 2 the Indie Gods 4 creating Ariel Pink
But we'll never know
What is going 2 happen
in 2k11...
Goodbye 2k10...

I'm afraid, you're afraid.
And we die and we live and we're born again
Turn me inside out
What can I say...
-Ariel "10.Who?" Pink
Has Ariel Pink's Haunted Graffiti 'peaked' or do they still have 'more 2 go'?
Has Ariel Pink finally 'conquered' AnCo?
R u 'happy' that indie/lofi is finally 'dead'?
Who is the Larry Bird of indie music?
Who is the Michael Jordan of indie music?
Who is the Mike Tyson of indie music?
Who is the LeBron James of indie music?
Who is the Steve Nash of indie music?
Who is the Chad OchoCinco of indie music?
Who is the ______________[sports athlete] of indie music?
What can Ariel Pink do to 'top' Round & Round?
Will his next album have to sound 'hi-fi' [via needing to sound 'post-lofi' 2 entry-levelers+tweens]?
Alternative Celebrity, Buzzband
Ariel Pink is a 'lofi genius/wizard/mastermind' who has transitioned his brand to 'relevant indie buzzband status' in 2k10.
Read more>>>>