American Apparel Gift Certificate offered as Prize on the Price is Right
By Carles on 30 Mar 2010
The Price is Right is a popular game show that unemployed moms and old ladies watch every day. The show is basically a long advertisement, and people just guess how much stuff is worth in order to win prizes. The show will most likely die when Gen Xers begin to pass away.
Video Description: One lucky Price is Right contestant is offered the chance to win $1500 American Apparel gift certificate.
American Apparel was utilized as a 'prize' giveaway during the Price is Right. This might mean that Am Appy is trying to reach grand parents and old people, letting them know that their brand is real / dependable. Maybe they just want to inspire old people to buy gift cards for their teens.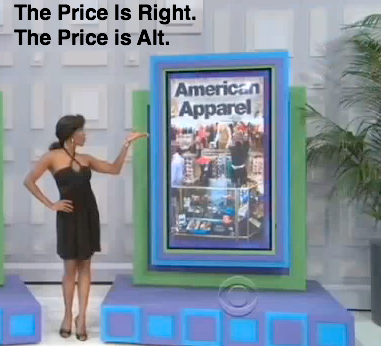 Did American Apparel reach a new market with the Price is Right segment?
If you were an old person, would Am Appy appeal 2 u?
Is American Apparel 'crossing over'?
Does it cost money to get ur product placed on the Price is Right?
Do u wish u could win an Am Appy gift certificate from this show, or would u rather have the best bottom in the world?
Do u wish u were on the Price is Right so u could guess how much kitchen appliances were worth?