Video: Washed Out LIVE + new backing band
By Carles on 08 Mar 2010
Washed Out is beginning a new phase in his career. No longer is he just a 'blog darling' who produced some of the most relevant + critically acclaimed mp3 of 2k9. He is an indie artist who must fulfill his destiny--creating crossover hits + going on tour and inspiring crowds in relevant alt clubs + making mad bank/indie dollars. This is the beginning of his first 'extended tour', and it seems like he hired the band the Small Black to help him fill the room with sound as a 'backing band.'
It seems like this tour is some sort of 'beta' test to prepare him for his 'opening slot' for Beach House in ~1 month. Sort of feel like people will enjoy Washed Out more than Beach House, since Beach House's stock has really 'plummeted' 2 weeks after their album release, and people will probably be more 'intrigued' by the evolving Washed Out experience.
Washed Out AKA Ernest Greene bro seems to have constructed some sort of massive ring of lights to serve as a visual aid to his music. This ring might play an important part in the visual evolution of his brand [via the Daft Punk Pyramid theory].
Does Washed Out seem chill live?
Will Washed Out win a Grammy within the next 5 years?
Is chill wave evolving / fitting in with 'the mold'?
Do u buy into the Washed Out live performance, or should he be more/less like Panda Bear?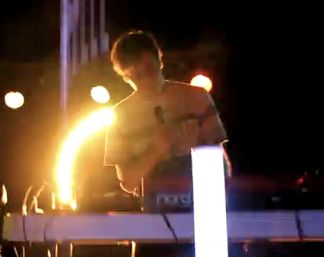 Will u 'make it out' to the show when Washed Out plays at ur local relevant venue?
Buzzband
Washed Out is the hit chillwave project of indie hunk Ernest Greene.
Read more>>>>