Are unpaid internships a new form of modern slavery?
By Carles on 04 Apr 2010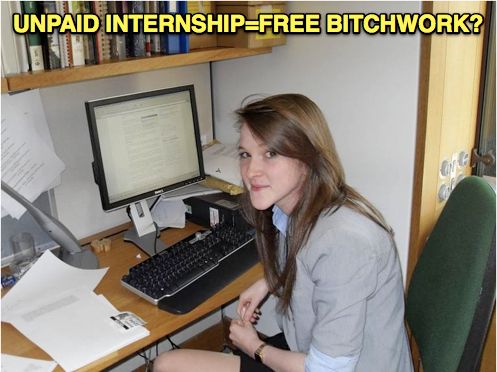 The New York Times did a story about how unpaid internships might be illegal. They basically say unpaid internships are ways for companies to scam young people looking for opportunities into working for free. Even though most companies exist 2 make money, they often try to 'cut costs' and exploit the efforts of young people who don't know any better/don't have better career opportunities.
"If you're a for-profit employer or you want to pursue an internship with a for-profit employer, there aren't going to be many circumstances where you can have an internship and not be paid and still be in compliance with the law," said Nancy J. Leppink, the acting director of the department's wage and hour division.
Wonder if employers feel sad that they can't hire optimistic college students who are funded by federal loans or their rich parents to do some free labor. Did u have an unpaid internship during college where you learned a lot / were treated like shit?
Many regulators say that violations are widespread, but that it is unusually hard to mount a major enforcement effort because interns are often afraid to file complaints. Many fear they will become known as troublemakers in their chosen field, endangering their chances with a potential future employer.
Do u feel like u have to get an internship in order to get 'real experience'? Has an employer ever treated u like shit as an intern?
The story also featured a picture of a girl who did an unpaid internship for a company that booked musical acts. I think she is supposed to appear as a 'victim' because she goes to NYU, but still has to do 'unpaid bitch work.'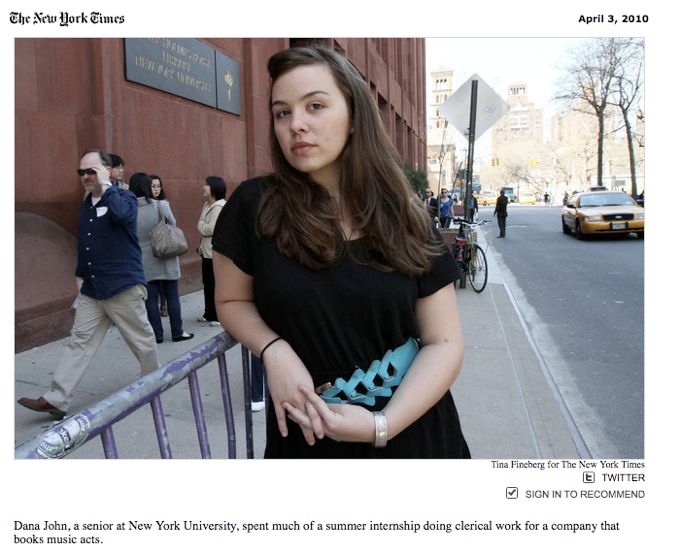 There were tons of unsourced examples of 'unfair employers' who treated their interns 'like janitors', minorities, and miscellaneous unskilled laborers. If u had an intern, would u make them do 'bitchwork' or try to make them more employable?
Many students said they had held internships that involved noneducational menial work. To be sure, many internships involve some unskilled work, but when the jobs are mostly drudgery, regulators say, it is clearly illegal not to pay interns.

One Ivy League student said she spent an unpaid three-month internship at a magazine packaging and shipping 20 or 40 apparel samples a day back to fashion houses that had provided them for photo shoots.

At Little Airplane, a Manhattan children's film company, an N.Y.U. student who hoped to work in animation during her unpaid internship said she was instead assigned to the facilities department and ordered to wipe the door handles each day to minimize the spread of swine flu.
Do u have an internship horror story?
Have u interned at an alt company?
Are employers 'ass holes'?
Will u get screwed over more if you intern with a Fortune 500 company or if you try to get alt cred by working at a boutique company?
Do u have any work experience, or do u just think u'll live at home with ur parents for the rest of ur life?
Are unpaid interns 'victims' or should they 'shut up' and get to work / clean the bathroom / run to get the office some coffee?
Are young adults too entitled these days/think they can achieve their dream job?
Are internships the same thing as 'slavery'?
Should the Alt Report hire 5-10 unpaid interns?