Jared Leto kinda looks like Courtney Cox
By Carles on 22 Apr 2010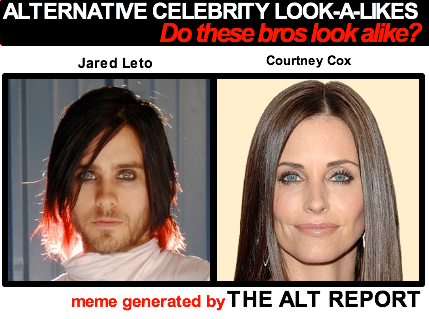 Do yall think that popular alternative actor + alt band front man Jared Leto looks like the star of FRIENDS + SCREAM Courtney Cox-Arquette?
Is 30 Seconds to Mars the greatest band on the planet?
Is Courtney Cox hotter than Jennifer Aniston?
Is Jared Leto hotter than Jennifer Aniston?
Which 1 of these bros would u rather be intimate with?
Alternative Celebrity Look Alikes compares the personal brands of alternative celebrities with other famous and microfamous humans. This ALT REPORT gimmick was inspired by the mainstream version of this meme at totallylookslike.com. Please submit your alternative celebrity look alikes at the ALT REPORT TIP LINE.
Actor, Buzzband
Jared Leto is an alternative actor, and the lead singer of the band 30 Seconds to Mars.
Read more>>>>