Is M.I.A.'s violent popup ad the most annoying internet ad of all time?
By Carles on 27 Apr 2010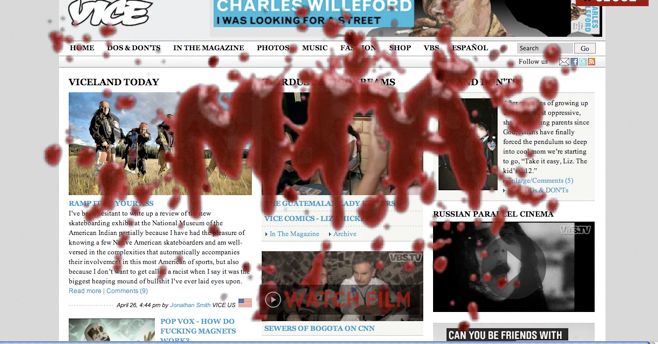 Yesterday, the Alt Report Robot visited the popular Gen X alt website Viceland.com. My internet experience was interrupted by an interactive advertisement that popped up in the center of the screen. I saw a ginger boy running, and then he blew up, and then his blood spelled "M.I.A." At first I was confused, but then I remembered that M.I.A. created a violent music video where some ginger bro was blown up [link].
Do u think this type of online advertising is 'hella annoying'?
Do u like browsing websites and 'seeing shit pop up'?
Are popup ads the most important form of advertising in our lifetime?
It seems like M.I.A. is jonesing really hard to promote this violent meme. I wonder if Interscope has her back, or if they are 'mortgaging the house' with her release. Has any1 figured out if there is a metaphorical message behind her videos, or is she just trying to get our attention so we buy her album?
Is the song "Born Free" poppy enough for you?

If you had a relevant alternative website, would you rather sell high priced banner ads, or would you just give the artist the login to your twitter account with over a million followers, kinda like Pitchfork did for M.I.A [link].
Wonder which 1 was the right move, in terms of 'keeping their readers happy.'
From what I understand, websites are in constant fear of appearing to have 'sold out.' In addition, they can't do things that weaken their editorial trust with readers. Seems like M.I.A. is probably 'pushing the limits' with Vice and Pitchfork. Do u feel uncomfortable with modern internet advertising? Should we just 'sack it up' and enjoy the modern world?
What is the most annoying advertisement of all time?
Have u ever won something free on the internet [via popup ad]?
Are you an M.I.A. supporter?
Do you support M.I.A.'s war against the gingers?
Is M.I.A. more authentic than Lady Gaga?
Will M.I.A.'s album debut at #1?
Do u know a good popup blocker + spyware detector to protect my PC from viruses and trojans?
Do users respond positively or negatively to intrusive advertisements on websites?
Buzzband, Alternative Celebrity
M.I.A. is known for thinking that the American government is out 2 get her.
Read more>>>>