NYTimes writes article about Christian counseling 4 female porn addicts, includes photo of hipster porn addict
By Carles on 03 May 2010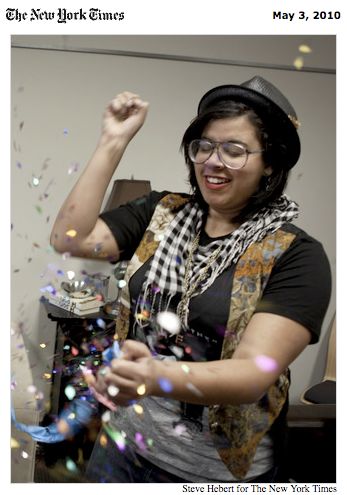 I don't think this post is even really that relevant. The NY Times wrote an article about female pornography addiction counseling. I don't think they really 'care about' porn addiction like it is a real problem, but it seems like something that could get a lot of hits, since it involves religion, females, and pornography. It also really helped that they had a photo of an entry-level alt girl as the physical representation of female porn addiction. Do u think she uses her keffiyeh as a cum rag?
I wonder if the journalist who wrote this had 'a laugh riot' when he/she attended one of these counseling sessions. Seems like it must have been crazy to go 2 Kansas 2 see this go down:
LENEXA, Kan. — It was the final session for the women at Westside Family Church's Victory Over Porn Addiction group, and the youngest member, a 17-year-old named Kelsie, had not had a good week.

"I slipped two nights this week," she said, to nods of support from the other women in the group.

"I decided that every time I'm tempted I'll just let everything out to God," she said, "then pray specifically for someone else, do selfless acts, to get away from being selfish."
Damn. R u a Christian?
Do u watch porn?
How do u know if you are addicted to porn?
For the graduation ceremony, Ms. Renaud passed out balloons and asked the group to write down the things they were giving up. Out came the bad stuff: Porn, Masturbation, Lustful Thinking, Cutting, Feeling Useless, Dad's Bad Choices, Self-Gratification, Self-Mutilation, Unhealthy Thoughts.

They finished by popping the balloons and hugging. Ms. Renaud allowed that the culture's forces were against them.

"This group should be much larger, but they're afraid to come forward," she said. Even after seven years without pornography, she told the group, looking at it too long it might attract her. Recently, she said, she watched "Titanic," including the nude scene, without a relapse.
Is this 'kinda like a Daily Show segment' except in written format?
Have u ever masturbated to the nude scene in Titanic?
What's the most amount of times u masturbated in 1 day?
R u addicted to porn?
Have u ever written all of ur problems on a balloon, then popped it to metaphorically represent 'overcoming' personal demons / problems?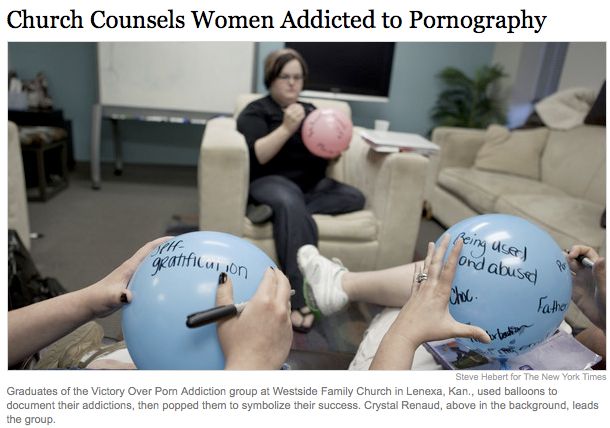 Are all entry level alt girls from Kansas addicted 2 porn?
Can God help u get over any addiction?