Shakira has new song, samples/steals/sings over The XX
By Carles on 13 May 2010
Have u heard of popular 2k9 buzzband The XX? Their hyped album 'Remember the X' was one of the most favouritest albums of 2k9, and they continued to go mainstreamier, acquiring more fans as each blog day went by.
It seems like this might be their official 'crossover point.' Shakira, the ethnic lady with a big ass and froggy voice, sang over their song "Islands" in a new song by her called "Explore." I am not sure if she straight up 'stole' their riff, or if The XX are getting paid 'mad bank' for giving her their music. Not sure if I am supposed to be 'proud' of the XX, or if I should be 'pissed off', tweet at them about 'selling out', and promise myself never to download their MP3 leaks for free ever again.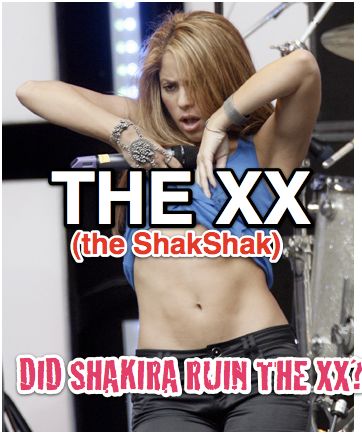 Do u think Shakira 'fixed' the original song or did she ruin it? Do u like froggy ethnic vocals, or phone sex vocals more?
Always thought Jay-Z was gonna be the first mainstream artist to sample some minimal XX guitar riff, but I guess Shakira 'beat his ass.' Wonder which indie artist is 'next' to be utilized by a mainstream musician. Wonder if the XX only cares about making money, and don't really care about making buzz mp3s for their early adopter audience.
R u proud of the XX?
R u still gonna listen to them, or are u 'fucking done' with them for 1 year?
Do u just wanna chill out with Apollo Anton Ohno and Shakira, and listen to some vibed out minimalist indie?
Will Shakira replace the forgotten ethnic member of the XX who they 'booted'?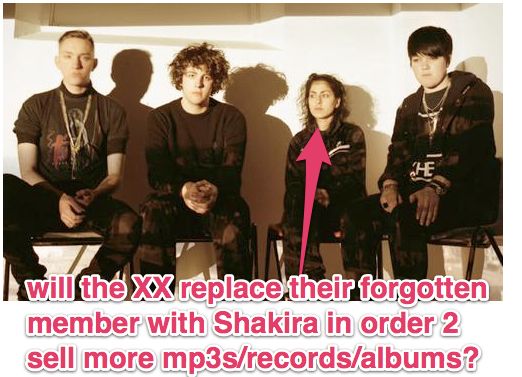 Is Shakira gonna save the XX from the 'sophomore MGMT slump'?