2 entry-level alts have facebook wall-2-wall convo about their amazing taste in music
By Carles on 01 Jun 2010
FACEBOOK WALL-2-WALL STATUS UPDATE CONVO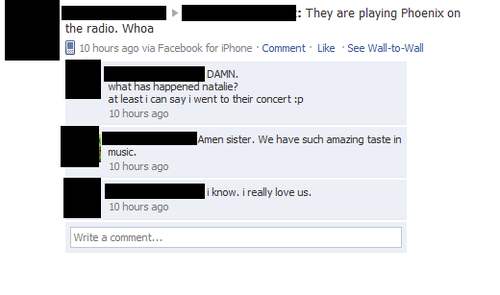 Facebook is a popular social network where people have obnoxious convos to brand themselves as 'cool.' It seems
Their convo first starts off with 'disbelief' that Phoenix, an 'indie band' was played on the mainstream radio.
The second phase of their conversation documents their 'relief', as they have already experienced the band live, making sure that they comfort one another since one of their fave bands is now mainstream. Tickets will be limited now that 'every1 knows abt them.'
In the epic third act of their conversation, they compliment one another's taste in music, branding their taste together, letting people know that they share meaningful indie music experiences together. They sort of 'let go' of Phoenix at this point, knowing that they are no longer an undiscovered buzzband any more.
Finally, they close the wall to wall with a little bit of love, making sure every1 in their network knows that they have an authentic bond of love that has been strengthened with the power of indie music.
Does the mean Phoenix is maintream?
Did Phoenix go mainstream like 5 years ago?
Do u ever watch entry levs talk about mindie bands on facebook?
Do yall talk about indie music on facebook?
What do u do to bond with ur friends on the net?
Is this an 'ass hole' type of convo?
Do u use facebook?
Do u still listen to Wolfgang Amadeus?
Do yall miss 2k9, when we took buzz albums for granted, like they could be released every 2 weeks?
Buzzband
Phoenix is a French pop band that has been around for a decade but went rlly mainstream after their album "Wolfgang Amadeus" was s0 p0ppy that no1 could h8 it.
Read more>>>>