Cut Copy's next album being 'mixed' by the same bro who mixed AnCo's MPP
By Carles on 17 Jun 2010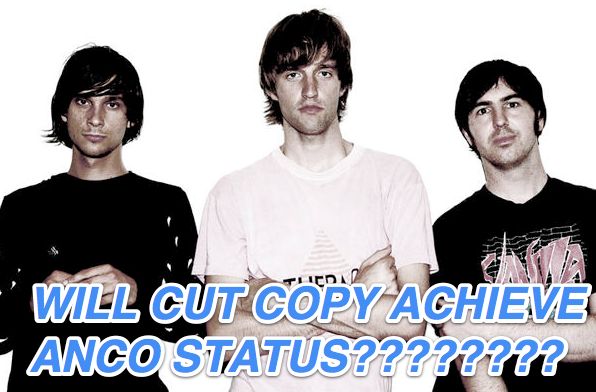 Cut Copy has had a long, authentic indie career, really 'coming thru' on their album releases, not letting any1 down. They apparently have a 'new album' coming out in early 2k11, but will release singles in the fall of 2k10. Sorta wonder if these are the 2k10 MP3s that will give us the sense of authentic buzz that we have been waiting 4. Feel like if Cut Copy delivers on this album (critically, conceptually, and mildly commercially), they might achieve High Level AnCo status where every1 worships everything that they do.
Pitchfork Magazine interviewed them, and talked about what their next album will sound like.
Band leader Dan Whitford recently chatted with us about the self-produced record, which is currently being mixed by Ben Allen, whose resume includes Animal Collective's Merriweather Post Pavilion and Gnarls Barkley. The band also plan to debut a few newbies live when they hit some festivals this summer, including Lollapalooza. We've heard a few new tracks ("Blink and You'll Miss a Revolution", "Take Me Over", "Alisa", "When I'm Going", and "Turning From Stone"), and they sound more groove-based and less rock than In Ghost Colours.
Wonder if the new album will be appropriate/listenable. Was scared about their second album, but seems like they are 'evolving' appropriately.
This is a photograph of Ben Allen, the bro who 'mixed' Animal Collective's hit album Merriweather Post Pavillion.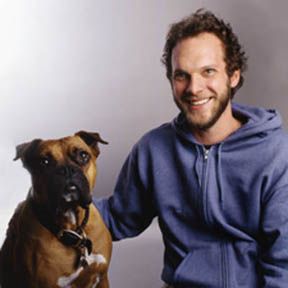 Seems chill. Can't believe he threw down such appropriate levels on so many complex textures.
Another highlight of the Pitchfork interview comes when they talk about Lady Gaga inviting them on tour, but they 'shafted the hell out of her', declaring 'hell no':
Pitchfork: I heard Lady Gaga invited you to open for her on tour recently. What did you think when you got that offer?

DW: It was one of those weird moments where you're not sure whether to burn the letter or frame it and put it on your wall. We were simultaneously repulsed but also tantalized by the idea of touring with her for a whole year. It is funny how you can write off some huge, ultra-popular musician, but if you find out they actually like your music, you're like, "Oh, well maybe they're all right!" To be honest, I don't listen to the radio at all. I get a lot of stuff online and the rest is all old records. I don't really know her music that well.

Pitchfork: Seems like it could've been a cool experience.

DW: Yeah, that's why I was intrigued. We've been asked to do big tours before and never really found anything we would want to do. We're more focused on our own music and our own fan base. But yeah, if I were in a "Choose Your Own Adventure" novel it would've been interesting to go on tour with Lady Gaga and see how that affected my career and life. I don't think we ever seriously thought we'd do it, though.
Seems like they pulled the 'authentic' route, and said no to crazy mainstream opportunities.
Wonder how many indie/electro/chillwave bands would have turned that down. Seems like in the era where 'selling out' is accepted as the norm, they chose to limit their brand exposure in search of more authentic pastures.
Should Cut Copy have gone on tour with Lady Gaga, making tons of money off tweens, gays, and lonely females?
Will the next Cut Copy album 'deliver'?
Will Cut Copy 'kill' chillwave if they get post-prog rocky enough, departing from electro/70s pop vibes?
Will Cut Copy save 2k10, or will they just be the 'first of many great albums in 2k11'?
Do u h8 2k10? R u pumped abt 2k11?
Buzzband
Timeless Australian electro band Cut Copy
Read more>>>>