Indie restaurant Taco Bell starts selling indie Doritos in combo meal format
By Carles on 15 Jun 2010
Taco Bell is a popular authentic Mexican food restaurant. Doritos are a popular corn chip which embody the essence of the Mexican cuisine in chip format. It seems like a 'natural combo' to offer the Nacho Cheesier flavored chips with the classic Taco Bell taco/burrito. It seems like this joining of forces will help profits go 'thru the roof' since people who enjoy Taco Bell are also big on Doritos.
Feel like this post is also a 'stock tip' that if you can buy stock, u should buy some of Taco Bell.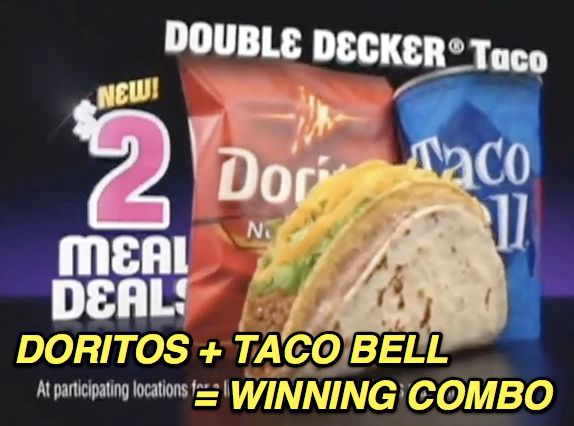 This $2 meal deal is gonna be a huge hit. People don't have enough money for $5 footlongs [via subway]. Humans are hungry, and need a snack on the go. The format of the taco, and the insulated Dorito chip bag offers Taco Bell a huge competitive advantage in the modern fast food market.
It seems like Doritos are probably expensive, so Taco Bell might lose some money in this combo bundle, but the CEOs probably aren't doing it for profits--they are doing it to strengthen their brand. We must take time to applaud modern business leaders who don't care about profits and under the value of the consumer and the brand.
Seems like Doritos + Taco Bell entrees will also appeal to the emerging 'health nut' demographics who want healthy meals without all of the bad poisons in them.
Will Taco Bell revolutionize the fast food industry?
What is ur favourite food at Taco Bell?
Is Taco Bell 'alt' [via the fourth meal]?
What's ur favourite flavour of Douritos?
Do u know why Taco Bell started 2 serve Doritos?
Do u think more chips should be bundled with restaurants?
Should they serve Sun Chips at Chipotle?
Should they serve Tostitos at Chili's?
Should they serve Cheetos at McDonalds?
Should they serve Fritos at TGIFriday's?
Should they serve ______ at __________?