Interpol make some artsy new video where a girl spits out conceptual cum
By Carles on 24 Jun 2010
Not sure what Interpol's deal is. They release 1 'definitive indie' album back like 10 years ago, but have sorta pooped around for a while, not really delivering. They possibly still 'sell a lot of albums' though, but I'm not sure who buys them. Feel like there's a lot of people who are 'still waiting for them to recapture the magic.' Unfortunately, I think The National might have 'phased them out', taking advantage of their niche/core fan base of bros who want deep, dark indie rock with a deep voiced bro.
N e ways, Interpol has a new video for the song "Lights." Song is pretty boring. Video is basically 1 of those 'trying 2 hard' conceptual videos that doesn't mean anything, but is trying to portray a dark, metaphorical vibe. Eventually, some girl starts spitting out white liquid, which we can 'only assume' is semen, or a conceptual interpretation of a man's seed.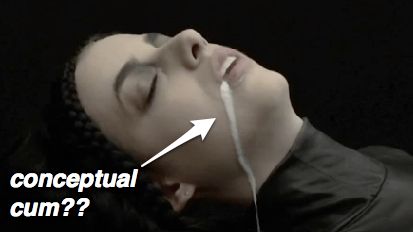 Not really sure what to think.
Overall pretty boring, but I guess the 'cum' coming out of the mouth + eyes got my attention. Really makes me wonder if 'swallowing' or 'spitting' is more authentic.
Do yall like Interpol?
Do 'deep' videos like this even mean anything in our modern world?
Do u think they should have just made a snuff film video?
Will Interpol's next album 'tank' commercially + critically?
What is more authentic: 'swallowing' or 'spitting'?