Even more mainstreamers talk about kewl new indie buzzband PHOENIX on facebook
By Carles on 14 Jul 2010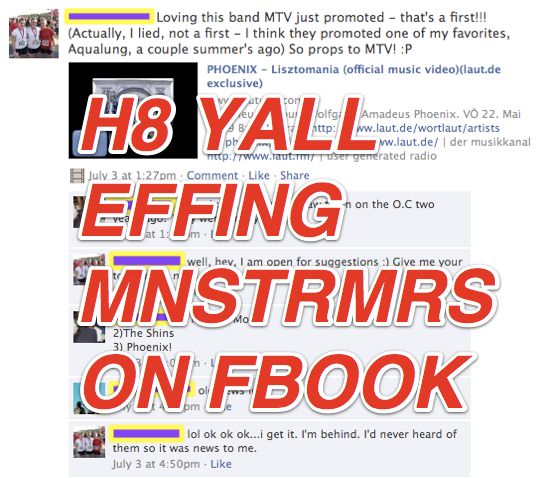 Facebook is a tool where people talk about life, and other people read about their lives', then other people comment, and u feel like u have friends on the internet who care about u and want to get to know about u and what u like so sometimes u can go out with them in real life and take pix them post them and tag them, then other people will see those pix and will be like, 'o kewl they must be friends. saw them tagged 2gether in a few photos and blowing up my minifeed with wall2walls.'
Anyways, facebook is also a place where mainstreamers talk about indie buzzbands. Due to social networking buzz, tons of previously undiscovered buzzbands are getting 'tons of coverage.' Here is another example of some mainstreamers talking about the 'totally indie' band Phoenix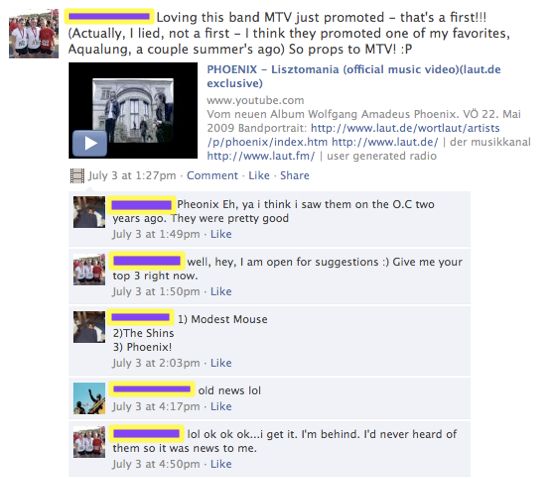 It seems like mainstreamer #1 found out about Phoenix from MTV.
then mainstreamer #2 was like 'nah bro, heard about them on the OC [via California here come]'
then mainstreamer #1 was like 'oh i feel rlly mainstream. do u know any other good bands'
then mainstreamer #2 got in a time machine and said 'the shins and modest mouse kill it.'
then an altstreamer comes out of nowhere and is like 'YALL ARE FUCKING MAINSTREAMERS.'
finally, every1 simultaneously said 'we luv indie rawk.'
Do yall talk about buzzbands on facebook?
Have u picked up sweet recommendations from facebook?
Whenever a buzzband releases a new mp3 do you 'share' that shit to look cool?
Have you seen any mainstreamers talking about buzzbands on facebook?
Do u get pissed when mainstreamers find out about indie buzzbands?
Is Phoenix the ultimate modern mainstream indie band?
Buzzband
Phoenix is a French pop band that has been around for a decade but went rlly mainstream after their album "Wolfgang Amadeus" was s0 p0ppy that no1 could h8 it.
Read more>>>>