Vampire Weekend MILF gives details/lies on 'background' of her 'stolen' photo
By Carles on 21 Jul 2010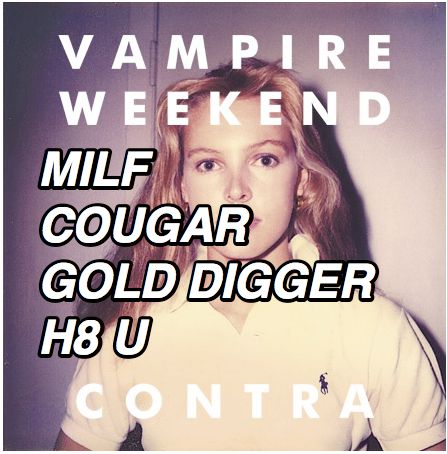 So that Vampire Weekend album cover woman is 'still pissed' that the band 'stole' her photo and used it on their album cover. Wonder if she is lying or telling the truth. Sorta think suing them for $2 million is kinda unchill, but maybe I am just a buzzband/new media apologist.
N e ways, there is some 'update' on who the hell she is, and what she says the background/history of the photo is:
Kennis retired from modeling years ago and now lives in Connecticut with her husband and daughter. According to her lawyer, the photo was taken in 1983, but not as part of her professional career. "It was taken by her family," Neigher says. "It was a Polaroid, not a modeling picture." So how did it wind up on the cover of a No. 1 hit album? Kennis isn't sure. "Her mother was a chronic Polaroid snapshot taker, and used to sell whole archives of photographs to these shops, five bucks a hundred or whatever," says Neigher. "Her mother may have given away to a charity bazaar a whole ream of photographs. We just really don't know…She has no idea how that photograph got into the photographer's hands."
Was ur mom a chronic Polaroid snapshot taker?
Did ur mom sell family photos at garage sales to people who liked 'soft kiddie porn'?
Have u ever been an 'aspiring model'?
Then the photo bro was like 'hell no, i took that photo tall. she is a lying ass joke of a bitch':
"The photographer" is Tod Brody, who is also named as a defendant in the lawsuit. He laughed out loud when told of Kennis' story. "Ms. Kennis' claim that I didn't take the photo is blatantly false," Brody tells EW. "I took the photo in 1983. The photo was in my possession the entire time, for 26 years, until it was delivered to Vampire Weekend." Brody declined further comment, citing his own attorneys' advice.
Wonder who to believe. Wish we could all just get along, and make decisions that helped buzzbands instead of hurting them.
Hope this doesn't impact the cover art industry in 2k12. Worried that some 'visual artist' might sue Animal Collective for 'stealing' the Merriweather Post Pavilion album.
who do yall believe?
do yall care?
should they just 'settle out of court'?
do u think she is 'hot'?
do u think she is the type of insane person who will sue every blog, website, and album retailer on the internet who 'used her image without her consent'?
Do u think Vampy Weeks can just sign a couple of albums for her, and she'll go away?
Remember when Vampire Weekend was 'just a buzzband'?