Entry Level Alts have fun facebook convo about Pashy Pit, Vampy Weeks, MGMT
By Carles on 05 Aug 2010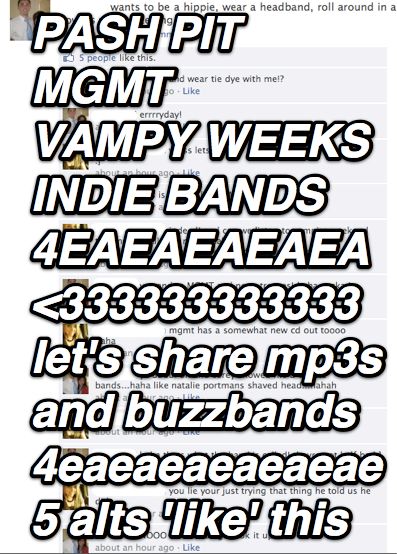 Facebook is a popular social networking site where humans connect to share their lives' together. In addition, conspiracy theorists say that Facebook is a datamining experiment constructed by the CIA. N e ways... facebook is mainly a place where sweet people share their thoughts, consumer interests, and personal information. A lot of people like to talk about new indie buzzbands on facebook to make their personal brands seem like they are 'fun', 'in-the-know' human beings who are on the bleeding edge of culture.
It seems like a few free spirited entry levs had a kewl convo about a series of indie buzzbands. Have yall heard about any of these bands? Do u want to be a 'hippie' and listen to them at a music festival or what?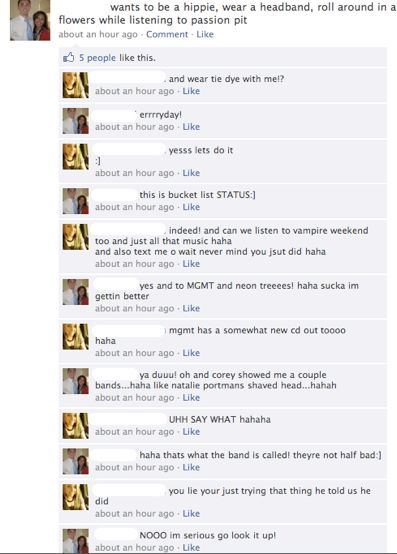 At first, some bro is like '<3 Pashy Pit... wanna be a hippie and listen 2 them.'
Then some other alt is like 'yea! let's wear tie dye... Gonna put this on our bucket list!'
Then they vow to listen to Vampire Weekend, MGMT, and some band called 'Neon Trees', which must be some sort of Neon Indian for mtv2 tweens band.

NOTE: Just listened to the Neon Trees, they sound 'hella gay'
N e ways, then 1 alt is like 'check out this band called Natalie Portman's Shaved Head.  effing loves it!'
Then the other entry lev is like 'huh? what a weird band name.  Cannot be forreal.'
The alt has to be like, 'no, forreal, look it up on wikipedia_space/music.html because they are a real band.'
At the end, every1 seems mad pumped to be alive, sharing buzzbands in the modern indie era. One day, we will all go to a music festival together, drop acid, and listen to synthy, whimsical indie bands while wearing 'hippie' gear.
Do yall talk about buzzbands on facebook?
Have u heard of MGMT/Neon Pit/Passion Weekend/ Vampire Trees / Indian Passionate Weekend?
Do u h8 when entry levelers 'ruin' once-relevant buzzbands, or is it a natural part of the band life-cycle that u have accepted?
R u pissed at 2k10 and the lack of authentic buzzbands?
N e ways, gotta go listen to some Neon Trees. Hope they collab with Passion Pit and write 'the queerest synth pop alt song' in the history of the world.
See yall later,
the neon tree bro's haircut