Gen Y lifestyle no longer covets 'material things', only digital media that u can store on a hard drive
By carleser on 17 Aug 2010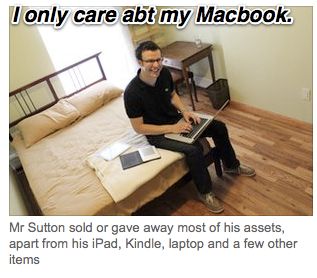 Just read some 'blog article' that is trying to be 'culturally insightful' about how young people no longer care about material things, and how they just want to live digitally, thru their iPhones, iPads, iMacbooks, and Kindles. People can live 'digitally' thru the internet, so u don't really have to own a bunch of other knick-knacks to pin up on ur walls / fill up bookshelves to 'prove who u r' n e more because u can just show people who u r with social media/facebook twitter.
Are you a '21st Century Minimalist'? Have u gotten rid of all of ur books/CDs/DVDs/blu-rays? (Did u get rid of them to live a simple life, or to get some quick fix drug money?)
Many have begun trading in CD, DVD, and book collections for digital music, movies, and e-books. But this trend in digital technology is now influencing some to get rid of nearly all of their physical possessions - from photographs to furniture to homes altogether.

Let's face it - digital files, applications and web services are replacing the need for many of the physical goods that pepper our homes, crowd our desks and fill our closets.
Wonder if u can only be a minimalist if ur a Mac User, or if you could get by with an old, bulky Dell Desktop


Sorta worried that life won't be as meaningful if everything exists digitally. Feel like we need 'crap' in our lives'
This bro seems pretty alt. Seems to be 'from Williamsburg.' Maybe shoulda made this blog headline showcase the word 'hipster.' Do yall 'effing h8' young urban adults who rely on technology?
Meet Kelly Sutton, a spiky-haired 22-year-old software engineer with thick-rimmed glasses and an empty apartment in Brooklyn's Williamsburg neighbourhood - a hotbed for New York's young, early adopters of new technology.

Mr Sutton is the founder of CultofLess.com, a website which has helped him sell or give away his possessions - apart from his laptop, an iPad, an Amazon Kindle, two external hard drives, a "few" articles of clothing and bed sheets for a mattress that was left in his newly rented apartment.

This 21st-Century minimalist says he got rid of much of his clutter because he felt the ever-increasing number of available digital goods have provided adequate replacements for his former physical possessions.

"I think cutting down on physical commodities in general might be a trend of my generation - cutting down on physical commodities that can be replaced by digital counterparts will be a fact," said Mr Sutton.
Kelly Sutton Mr Sutton sold or gave away most of his assets, apart from his iPad, Kindle, laptop and a few other items

The tech-savvy Los Angeles "transplant" credits his external hard drives and online services like iTunes, Hulu, Flickr, Facebook, Skype and Google Maps for allowing him to lead a minimalist life.

"I think the shift to all digital formats in all methods and forms of media consumption is inevitable and coming very quickly," said Mr Sutton.
Sorta wish I could go crash at this bro's pad, but he probably doesn't even have a spare air mattress + extra pillow for me.
Anyways, this article continues to 'force' the idea of people who only own a laptop, by creating some new gimmick called "virtual homelessness."
Here is a virtually homeless bro who is actually a DJ. Seems to carry around a lil piano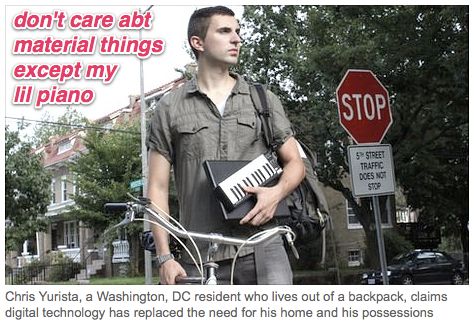 Chris Yurista, a DJ from Washington, DC, cites this trend in digital music as one reason he was able to hand over the keys to his basement apartment over a year ago.

"It's always nice to have a personal sense of home, but that aside - the internet has replaced my need for an address," the 27-year-old said.

Since boxing up his physical possessions and getting rid of his home, Mr Yurista has taken to the streets with a backpack full of designer clothing, a laptop, an external hard drive, a small piano keyboard and a bicycle - an armful of goods that totals over $3,000 (£1,890) in value.

The American University graduate, who spends much of his time basking in the glow emanating from his Macbook, earns a significant income at his full-time job as a travel agent and believes his new life on the digital grid is less cluttered than his old life on the physical one.

"I don't feel a void living the way I'm living because I've figured out a way to use digital technology to my advantage," Mr Yurista explained.

Mr Yurista feels by digitising his life, he no longer has to worry about dusting, organising and cleaning his possessions. And he says his new intangible goods can continue to live on indefinitely with little maintenance.
Wonder if this bro got evicted. Don't really know if 'travel agents' exist in the expedia/orbitz/kayak/southwest.com era.
Feel like his bros are probably pissed at him for crashing on their couches every goddamn day.
The DJ has now replaced his bed with friends' couches, paper bills with online banking, and a record collection containing nearly 2,000 albums with an external hard drive with DJ software and nearly 13,000 MP3s.
Have u ever had some1 who just crashed at your apt/house without really 'being welcome', and just chilled there for like weeks/months before u had to make up an excuse to kick them out?
Anyways, then they talk about some other digitally homeless bro, who apparently 'went homeless' with his wife. Seems impossible. All women get married so that they can be taken care of by their sugar daddie. Not sure if most women would be down with 'going homeless.'
But Mr Yurista is not the only digital vagabond.

Joshua Klein, a New York City-based technology innovation consultant, also set out on the road with his hard drive.

He and his wife digitised their possessions, got rid of two-thirds of what they owned and headed to the streets of New York for nine months with their laptops.

But Mr Klein and Mr Yurista both admit there are risks involved.

Mr Klein says the lifestyle can become loathsome because "you never know where you will sleep". And Mr Yurista says he frequently worries he may lose his new digital life to a hard drive crash or downed server.
Do u hope these 'virtually homeless people' are shanked in a bum fight, and their macbooks are used as firewood?
Do u think these are just young people who got 'laid off' but can't move home because their parents h8 them?
Is this type of article the 'antithesis' of the standard article abt how Gen Y people are moving in with their parents until they find 'their dream job'?
Do virtually homeless people 'beg' for money, or do they just ask ppl to paypal them when they get home?
Are virtually homeless people crowding the streets, stealing the resources + space from 'authentic homeless people' who 'genuinely need help'?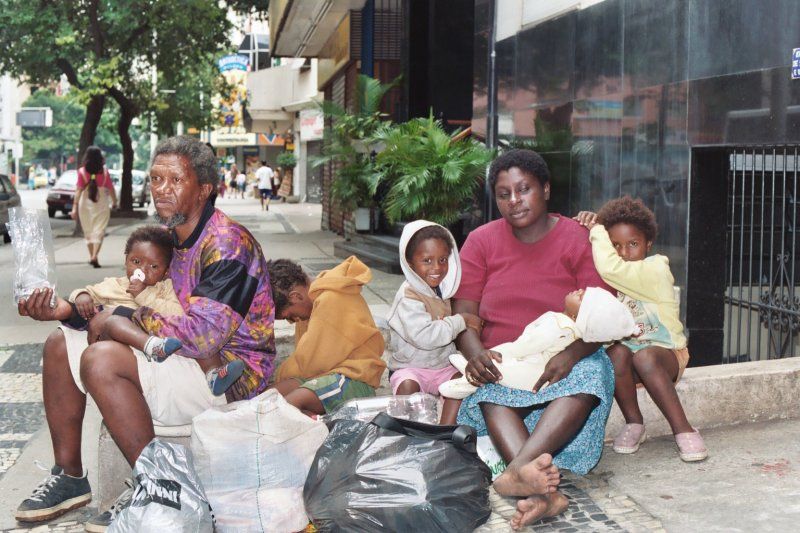 (Not sure if authentic homeless people are allowed to use wifi for 6 hours in a starbucks.)
R u gonna go digital + minimal?
What kind of possessions do u own?
Should I sell my Criterion collection DVDs + Salinger short stories collection?
Do true alts need to 'collect shit'?
Is it 'hypocritical' to 'not care about material things' but still need to acquire technological gadgets 2 keep u connected?
Do u live a 'minimal' life by choice, or did u max out ur credit card buying Apple products?
Do poor people live a 'minimalist' lifestyle, or do they just not have money 2 buy things?
Are homeless people 'hoarders' [via shopping carts filled with stuff]?
Do yall h8 articles like this that turn the lives' of a few ass holes into some sort of 'cultural phenomenon'?
Gonna just move to suburbia, get a huge TV, and fill my garage up with shit for the next 30 years.