Katy Perry plays slutwave song on the TODAY show, ruins chill family vibes
By Carles on 31 Aug 2010
From what I understand, the TODAY SHOW is a popular morning show that people who are unemployed or stay-at-home moms watch. Sorta like a blog in morning show format, featuring news, in depth interviews, recipes, healthy lifestyle tips, and even live musical performances by popular artists. It looks like Katy Perry showed up to ride some slutwaves on the TODAY SHOW. Seems like parents probably had to explain 'the birds and the bees' to their kids after they all got hard + wet watching Katy Perry 'shake her shit.'
Are you a "California Gurl"?
Do tweens really relate to this song?
Should I live in some sort of hyper-reality candy world and vibe out half naked?
Seems like things 'got crazy' cuz she brought candy on stage, then wore a sexie lil outfit to make sure no1 changed the channel. Guess she is just accepting that 'sex sells' instead of being another female pop star dressed like she shops at JC Penny's.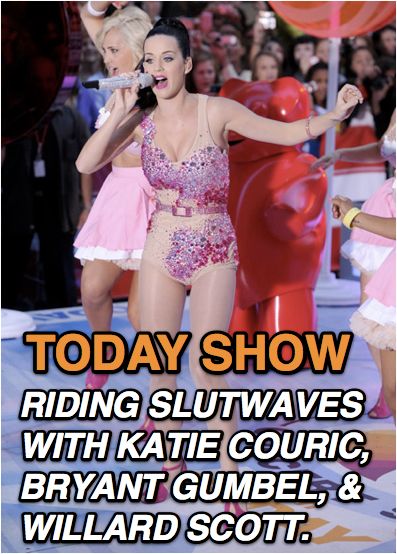 Really seems like this might be 'too slutwave' for a morning show, but I guess they are in trouble and need to book whoever the can. From what I understand, TV is kinda like the internet, and u have to try to get 'mad hits.'
Here she is singing the song "Teenage Dream", and it seems like she struggles with the vocals + movement during her song. Worried about her. Some1 needs to get her a 'solid backing track' so I can focus on her body, instead of her vocals.
Is Katy Perry the #1 slutwave artist?
Is her career going to be more successful than other slutwave artists like Lady Gaga or Miley Cyrus?
Does Katy Perry have 'an awesome voice'or did she only get famous because of her 'luscious breasts'?
Who is yalls favourite TODAY Show anchor?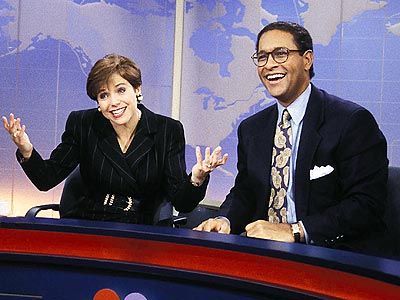 Would u ride slutwaves with Katie Couric, Ann Curry, Kathie Lee Gifford or Al Broker?
Is "California Gurls" the song of the summmer?
Should I cut off my peen and move 2 California?