New Washed Out Video features Ernie Greene chillwaving around the USA
By Carles on 26 Aug 2010
Always wondered what 'life on the road is like' when u become a buzzband. Feel like I finally know what it's like now that Washed Out's video for the hit anthem "Hold On" came out. Really just wanna bro down with him on stage, ride some chillwaves.
Is 'crashing' the Washed Out stage the new 'crashing the Girl Talk stage'?
I think this video means that he is 'moving on' to phase 2 of his career, working towards a second LP, putting the past behind him, using his life experiences as inspiration 4 new chillwave material. Might even 'move beyond' chillwave and write a lofi italo tribute record. U really never know.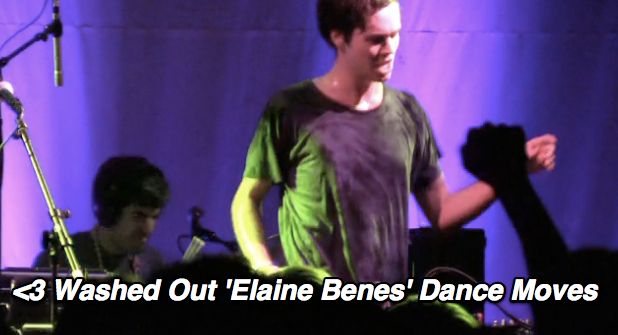 Sorta just wanna chill with him on stage and throw down some Elaine Benes dance moves [via Seinfeld bro humor].
Do yall still vibe hard to Washed Out?
How would u describe his signature dance moves?
Do u think Panda Bear should do the Washed Out 'white boy swagger sway' when he performs?
Will Washed Out replace Panda Bear on the high-end indie conceptual 1 man band circuit?
Do u wish u could be in a buzzband and travel around the world, playing ur mp3s for people who read abt u on the internet?
Does it seem 'worth it' to be a buzzband, or would u rather just sit at home and 'dank' all day, reading internet memes?
Which chillwave artist will have the most prolific career: Neon Indian, Washed Out or Toro Y Moi?
Which chillwave artist will have the most well-monetized career: Neon Indian, Washed Out or Toro Y Moi?
Buzzband
Washed Out is the hit chillwave project of indie hunk Ernest Greene.
Read more>>>>
Alternative Celebrity
Ernest Greene is the 'frontman' of the hit chillwave project Washed Out.
Read more>>>>