Lamestreamer on facebook discovers kewl new song by MGMT called "KIDS"
By Carles on 21 Sep 2010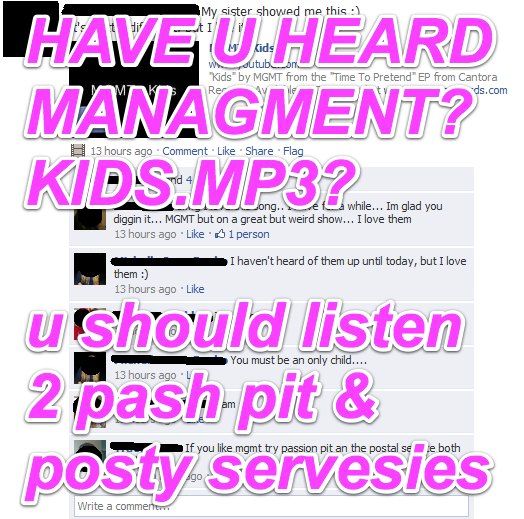 Facebook is an unlimited goldmine for finding excerpts of humans 'connecting' on facebook. U can get vulnerable about anything--life, love, relationship status, and even connecting with other humans while u talk abt buzzbands. A lot of people find out about kewl bands and kewl songs using the 'embed' function on facebook.
In this lame wall to wall minifeed status convo, some entry-level alt 'discovers' MGMT's hit song "KIDS." The rest...is facebook historie.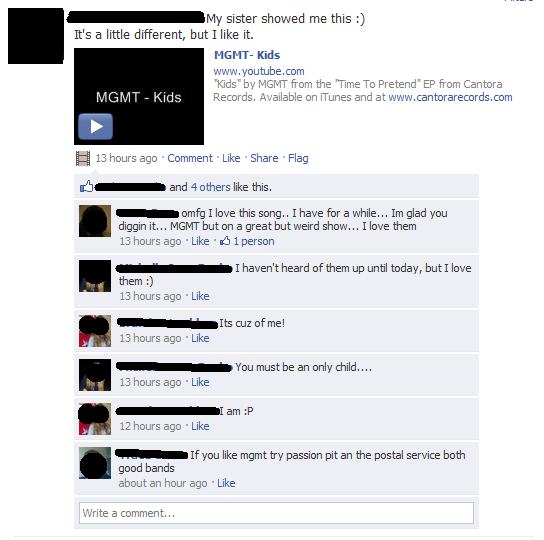 At first, an entry level embeds MGMT's "KIDS", and is all like "I know I am going out on a limb cuz this is way different and unique... but I kinda like it. Might look more in2 this kind of music.  PS: My sis told me abt it.  She's so alt."
The 4 people 'like' it, making it clear, "Yeah, I've heard that song, bitches."
Then some1 is like, "Yeah, I've been vibing 2 this song for soo long.  Saw them live, it was weird, but just wanted to put it on the record that I have known abt this song 4 so long.
Another alt comes along, and is like "Oh shit! This song is amazing! thnx 4 posting.  UR the effing best.  OMG jammin out hard."
Some other banter /inside jokes are thrown down, but then out of nowhere the ultimate alt shows up.
The bro really 'drops the hammer' on the convo, and says "If u like MGMT, try pashy pit and the postal services, yall! Both effing sleigh/kill it.  U will not regret downloading their mp3s from iTunes.  Ur gonna like the way u look--I guarantee it!"
Really feel like I just 'connected' with the spirit of rock n roll. So many people say that the modern indie music sphere is 'rotten' and 'despicable', but they don't witness this human-to-human interaction where bffs can recommend bands and share music so easily.
Really want to check out all of these bands.
Have u heard MGMT -KIDS.mp3?
Are these fans gonna be 'pissed' when they hear MGMT's album "Congratulations" in 4 years?
Do u miss the "KIDS" era of MGMT?
Does Pashy Pit sound like MGMT?
Does Pashy Pit sound like poop?
MGMT = Pashy Pit = poop ?
Is Pashy Pit the ultimate mainstreamer indie band?
Is it still authentic to 'recommend' ppl 2 the Postal Service?
Are all of these bands 'the shit'?
Do yall know of any other kewl bands I should check out?