Lamestreamers on facebook discuss how MGMT's music has 'gone down the shitter'
By Carles on 23 Sep 2010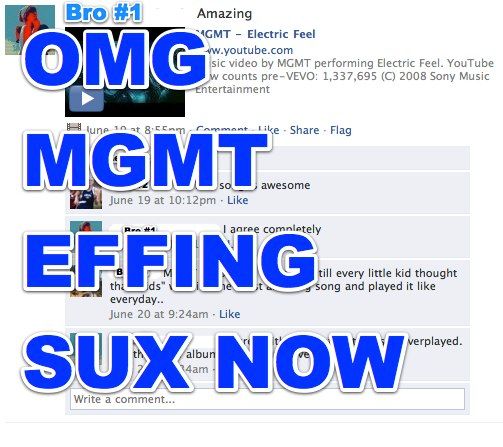 Many indie music fans are 'divided' on the state of many buzzbands as they evolve into mainstream bands, but no band is more divisive than MGMT. Their first album AnalBro Spectacular was hella chill, with tons of blogworthy hits like "KIDS", "Electric Eel" and "It's Time 2 Pretend, yall." However, their sophomore album "Congratulations" really let down the entire blogosphere.
It seems like a few bros on facebook had a really progressive discussion about the artistic merits of MGMT.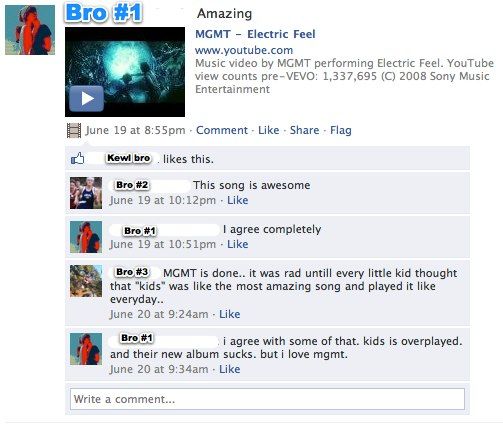 Bro #1 throws down a sweet youtube of the song "Electric Feel", and is all like 'this song is the shit.'
Another chill bro 'likes' the status, aligning his brand with the song.
Then another bro comes along and is like 'This song is fucking awesome.  Gonna check out this band.
Bro #1 'gloats' and is all like, 'Yeah. I know.  They are the shit.  I am the shit.'
An authentic bro then comes out of nowhere, and makes it clear that MGMT 'sucks' now.  He says "Listen, MGMT used to be OKAY, but now KIDS is overplayed by tons of lamestreamers, and their new album is fucking bullshit poop stains.  However, I love what the band is all about, and they have had their moments.  I have a true love hate relationship with MGMT.'
It seems like facebook offered some sweet bros the opportunity to reflect on MGMT. Facebook is a great place where humans can really unite and talk about common interests, relevant issues, and buzzbands. Peer-to-peer connxns really 'beat the shit' out of even face-to-face encounters because u get to really think about what u say before u type it out and submit the form.
Is MGMT 'awesome'?
Is talking abt MGMT on facebook 'authentic'?
Which bro do u agree with?
Do u talk abt buzzbands on Facebooks?
How many years will it take the blogosphere to 'come to terms' with MGMT's career arc?