NSFW: Photographer captures Alice Glass upskirt while she crowdsurfs
By Carles on 23 Sep 2010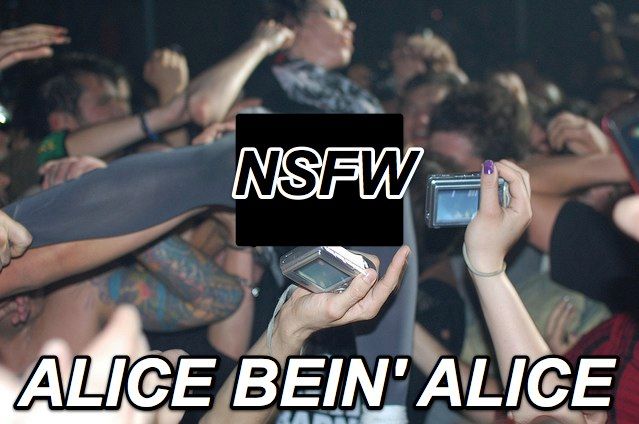 Alice Glass is known for her wild on-stage antics. Drinking entire bottles of Jack Daniels on stage. Beating people in the crowds with microphones. Crowdsurfing, and letting seas of altbros have 'grabfests' with her entire body. It seems like Alice Glass has added another upskirt-opportunity to her massive collection of concert photography memes.
UNEDITED POTENTIALLY NSFW IMAGE: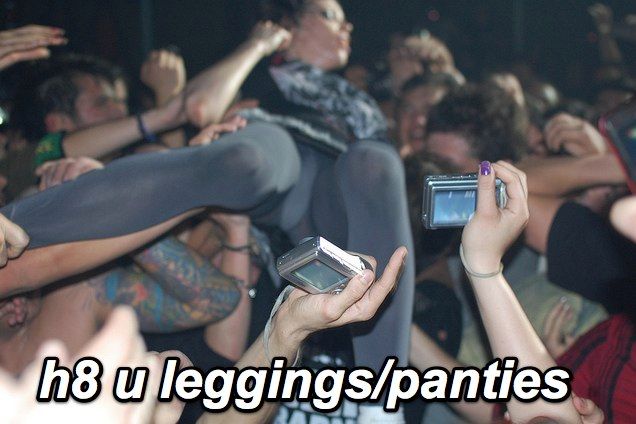 Shit. Guess she wore leggings + panties /some sort of protective underwear/diaper/maxi pad.
Gotta give my girl Alice props 4 crowdsurfing with the right amount of protection + coverage. I usually have a 'Women Shouldn't Crowdsurf' attitude on the live indie experience, but maybe I am underestimating Alice's preparedness. If she was a mainstream celeb, she probably would have crowd surfed without any panties on, get 'fingerbanged' then started crying/stopping the show.
Alice is different. She goes out there every night and gives 110%, minimizing her chances of 'getting hurt/violated.' Do u think Alice is 'truly lost in the music' or is she just a 'contrived indie star' who knows what she has to deliver for her fans?
Should more female indie singer crowdsurf?
Do u want to see Best Coast crowdsurf, or do u think WAVVES would be pissed abt that?
Do u think Alice Glass is the #1 female in indie music?
Are yall on #TeamAlice or #TeamRegine?
Would Win ever be chill enough to let Regine Crowdsurf?
Do altbros ever try to 'stick a finger' inside of a crowdsurfing woman [via grabfest 2k10]?
Do yall think club security should ban females from 'crowdsurfing'?