Pitchfork 'pans' Interpol, gives them a 4.6. Is it time 4 them 2 'hang it up'?
By Carles on 14 Sep 2010

Interpol had one 'great' album several blog decades ago, and they have released a string of mediocre albums since that album entitled "Turn on the Bright Lights yall, srsly! Can't see in here. Kinda dim [via a metaphor]" It seems like the entire indiesphere was waited and waited for them to 'recapture the magic' of that first album, but I think this 4.6 represents every1 'giving up', no longer expecting a repeat of the "Turn on the Bright Lights" formula. Seems like they might have set the model that MGMT will follow or something.
I wonder if the Arcade Fire/Sufjan Stevens/any other mid-to-early 2k0s authentic indie artist will get 'panned' like this?
Here is the intro of the article that basically says, "remember when interpol used 2 be sweet. Love those guys. It's really gonna hurt 2 pan this album, but some1's gotta do it."
The impressive thing about Interpol has always been the refinement of their sound, its remarkable sense of purpose. Sure, when the band debuted, a huge share of conversation revolved around the other acts they sounded like. But no matter how familiar any of the parts were, the band had welded them together into a whole that was instantly recognizable and easy to grasp-- they'd carved out the simple, narrow box of how an Interpol song worked, and they could put it across clearly, quickly, and thrillingly.
It seems like this album is an in-depth look in2 Interpol's existential crisis as a dying buzzband. Seems 'dark' and 'reflective'.
That sound is compelling enough to keep someone searching for a secret payoff to this record, some dark heart to sink into. The problems here, though, aren't in execution-- they're more existential. Cross over into the wrecked second half, and every song makes this sound more like an album that's not really ready to seethe, not really cathartic, not really full of painful hopeless beauty or any of those other things that make bleak records worthwhile. With every listen it just sounds like more of a fucking drag. For a moment, "All of the Ways" seems like it's prepared to lean into its own feelings of helplessness, and turn into the kind of desolate, bottomless song that feels good to fall into-- but then Banks can't help trying to sing it into something grand, trudging hopelessly through the same old routine.
Maybe Interpol shoulda stopped wearing suits cuz their fan base grew up, and they looked like young professionals in middle mgmt.
R u happy that Pitchfork finally euthanized Interpol so that we don't have to keep reading?
Who is next? Broken Social Scene? Animal Collective?
Is Interpol 'over'?
Does Interpol even 'sell records 2 mainstreamers'?
Is Interpol for failed cool dads?
Do yall miss Interpols?
Have things 'swirled down the shitter' since Carlos D left?
What other legacy buzzbands need to be 'euthanized'?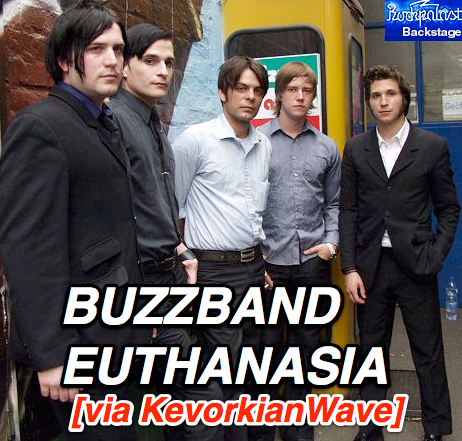 Should I take a ride on the Kevorkian wave?