Sufjan Stevens is pissed @ amazon 4 selling his album 4 mad cheap
By Carles on 21 Sep 2010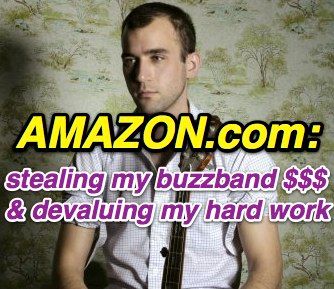 Amazon.com always does this thing where they will 'discount' relevant indie albums [via the digital store] upon their first week of release. A lot of theorists claimed that the record labels were chill with this, because it allows indie bands to 'sell more units' and perform on the mainstream charts. Sufjan Stevens is like 'aw hell naw', though, and is mad pissed that amazon is 'devaluing his work.'
Feel like this is probably an admission that his album won't perform 'commercially' and has a negligible chance to appeal to a mass market, so he is just scraping at all of the $$$ he can get. Really sad to realize that Sufjan isn't chasing mainstream dollars, and instead will just try to acquire a high percentage of his core fan base's money.
With a new album, 'The Age of Adz,' ready to be released in October, the singer-songwriter's record label, Asthmatic Kitty Records, has issued an e-mail to fans claiming that Amazon's bulk discount scheme is devaluing the work of artists.
Seems kinda weird for a record label to discourage fans from buying an album at a low price. I guess that record label h8s their fans or something. Just wish record labels would 'override' their artists' artistic spirits, and get them ready to 'take to market'/make the most amount of money + reach the most ppl.
The e-mail said, "We have mixed feelings about discounted pricing. Like we said, we love getting good music into the hands of good people, and when a price is low, more people buy. A low price will introduce a lot of people to Sufjan's music and to this wonderful album. For that, we're grateful."

It added, "But we also feel like the work that our artists produce is worth more than a cost of a latte. We value the skill, love, and time they've put into making their records. And we feel that our work too, in promotion and distribution, is also valuable and worthwhile."
Wonder if they are still 'rolling' in Little Miss Sunshine soundtrack dollars. Wonder if Sufjy even has to 'write another song' ever again. Sorta just wish he only wrote Chicago-style bangers.
Glad we are in the post-MGMT era, and we hold it against bands when they don't stick 2 a formula that 'works'/makes a lot of people rlly happy.
What do u think is the 'fair price' for an album? $100?
Should we add up the price of Sufjan's childhood banjo lessons and add some sort of 'depreciated'/'adjusted for inflation' costs?
Is Amazon.com discounting 'the only way in hell' u would even consider purchasing an album?
Should we all just 'buy shit off iTunes' and eff over
Is iTunes 'losing popularity' or will it be around 4evr because ppl have iPhones and Poddies?
Where is a good place to buy albums so that the artist gets all the cash?
Should I just wait to purchase
To this end, Asthmatic Kitty have recommended that check out alternative retailers and distributors such as Bandcamp which allows artists to sell directly to fans.
Will a service like 'bandcamp' ever be taken seriously, or does it need to 'rebrand'?
Will a new music service that 'helps artists monetize' take over the indie scene?
Does 'the lack of innovation' in album distribution hurt artists?
Or is it a 'good thing' that retailers like iTunes, amazon.com, and ur local Best Buy exist to give mainstream markets an opportunity to acquire ur product?
Is Sufjan 'right', or does he need to 'shut the eff up' and write better albums 2 inspire ppl 2 buy them?
Do u respect Vampire Weekend and the Arcade Fire 4 letting amazon 'liquidate' their album, or should all albums cost $17.99?
R u sad that Sufjy is 'begging' 4 money/discouraging ppl from buying his album?
PREVIOUSLY: How artists, record labels, and retailers divide their money
http://altreport.hipsterrunoff.com/2010/07/pie-chart-meme-graphic-how-artists-record-labels-retailers-split-album-sales.html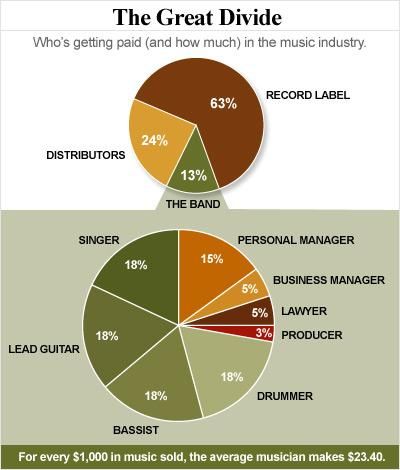 Buzzband, Alternative Celebrity
Sufjan Stevens used to write meaningful folk-sounding anthems, but then made an electro album.
Read more>>>>
Company
So far unsuccessful effort to compete with iTunes by cutting prices. Some artists & labels accuse Amazon MP3 for hastening the destruction of the music industry. Kinda sad to have your new album sold for $3.99. Others claim that super cheap albums distort the billboard/charting process.
Lists:
Read more>>>>