Washed Out holds live video chat, tons of alts bombard him with questions about chillwave
By Carles on 10 Sep 2010


Artists are under immense pressure to 'use social media + technology' to give fans a unique experience and an opportunity to connect with their brand. Last night, Washed Out, aka Ernest Greene participated in some 'live video chat' where he was on webcam answering questions, and a bunch of alts popped up on webcam to ask him stuff.
The fans seems 'jacked up', in disbelief. They couldn't believe they were talking to one of today's most relevant indie stars.
Fans asked him a bunch of generic stuff. "What gear do u use?" "Where do u find ur samples?" "When's ur next album coming out?" "I'm 17 years old so I can't get into your show, but I am ur biggest fan. Can u let me in?"
Eventually, every1 started asking him questions about chillwave.  Ernest basically would answer with "chillwave is chill.  Genre names are okay, whatever.  Making some new material that is probably more alt/authentic than chillwave, but doesn't completely piss on my chillwave roots."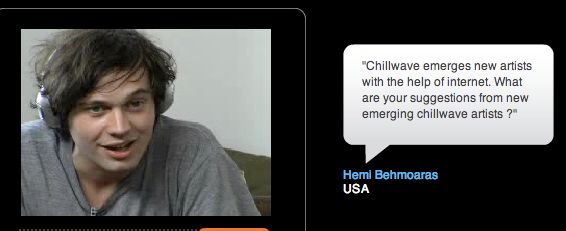 Ernie was pretty chill, just being a webcamming bro. Didn't do anything crazy like 'show skin' or 'take out his erect penis' [via chatroulette]. Was a chill time, but then his 'internet got disconnected' and tons of alts were sad/pissed. Not sure if he 'stormed out' and just pretended it didn't work because he got tired of it.
Do u wish u had webcammed with Washed Out? What would u have asked him? Do these Washed Out fans seem authentic?


Should artists use webcamming + social media, or should they just chill & make music
What indie superstar do u want to webcam with?
Do u want to webcam with Carles / Panda Bear / Avey Tare / Ezra Batmanglij?
Would u 'pay big money' to see WAVVES + Best Coast webcam?
R u worried about the next phase of chillwave?
Will chillwave evolve?
Is Washed Out going to release 'the album of 2k11'?
Can Washed Out 'make the leap' while Panda Bear is 'on the ropes'?
Buzzband
Washed Out is the hit chillwave project of indie hunk Ernest Greene.
Read more>>>>