INFOGRAPHIC: How much do indie bands get paid per live gig?
By Carles on 05 Oct 2010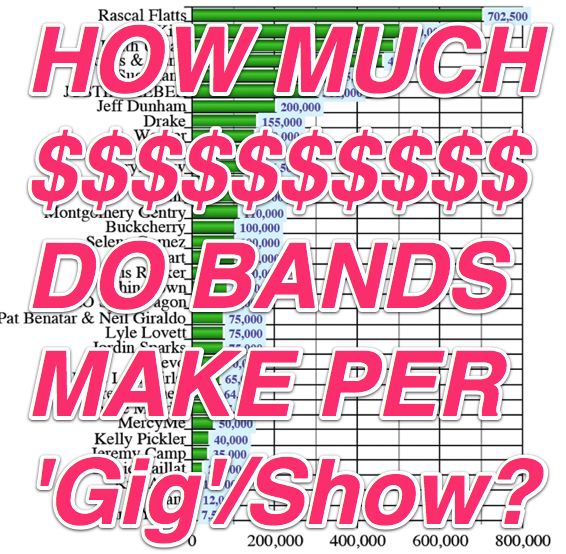 From what I have heard, 'touring' is the only way for a band to make money because no1 buys albums any more, and when they do, retailers basically take all of the money. U have to 'tour hard' and hope u sell a lot of t-shirts so that ur band makes money. It seems like some website made an INFOGRAPHIC abt how much money acts make per gig. Feel 'jealous' of most of these acts, because they are making so much money.
Here is the mainstream version of the 'graphic', which tells us boring stuff.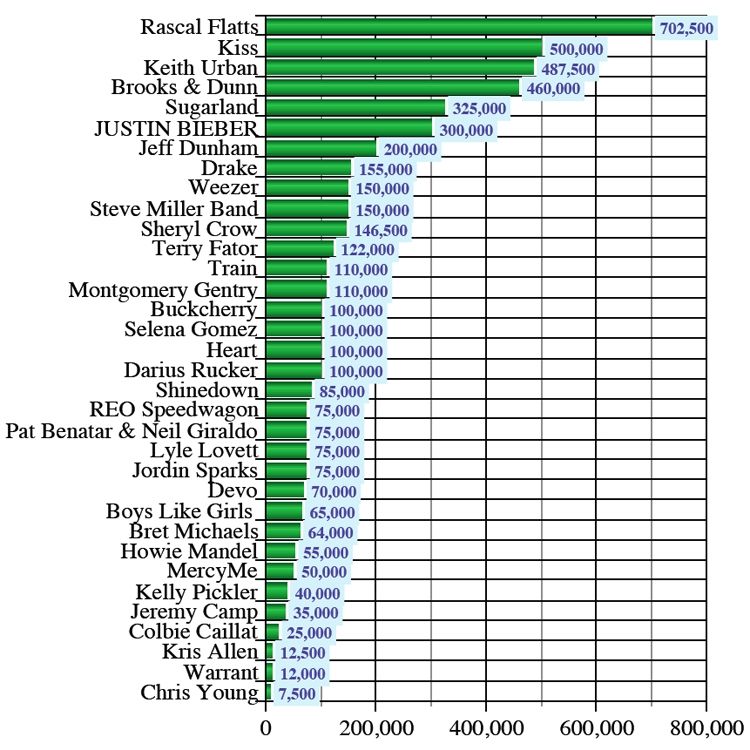 White people honky bands make mad bank
-Tween sensations make more than u will make over the next 3-5 years per night
-Hootie bro from Hooting at the Blowfish still makes mad bank
-People will still pay to see rock n roll bans that dress up as clowns
-U should start a Christian band
Anyways, that is boring. H8 white people music. Coulda at least thrown some rappers in there (besides Darius Rucker).
So I decided to make an INFOGRAPHIC that illustrates how which indie artists makes the most buzz dollars per gig. Not sure if this is based on any sort of real fact / analytic, but it seems 'kewl.' If I had to guess, 'buzz dollars' are some sort of unit that measures the amount of tweets, blog buzz, and high resolution photos that are generated at your shows, along with attendance numbers + t-shirt sales.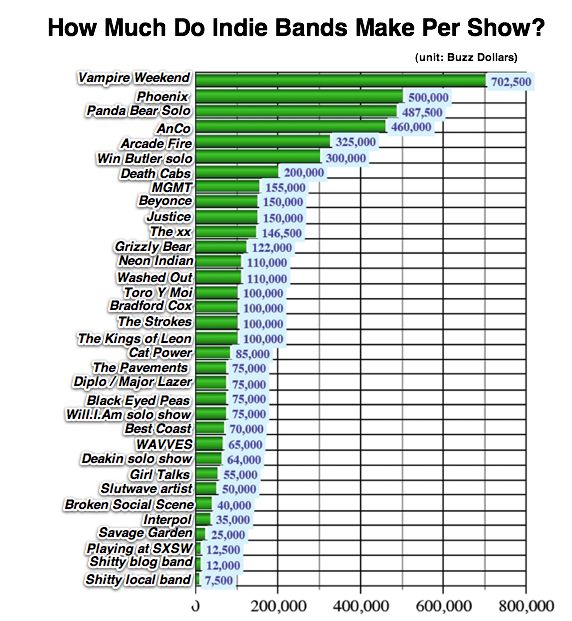 Seems like some bands make 'tons of buzz bucks'. What bands were omitted, and how many buzz bucks do yall think they make? Does Phoenix make more buzzbucks than any1 in the world?
Do yall think this buzz chart makes sense?
Do indie bands even make money?
Does it suck 2 be a modern indie band?
Do bands deserve to make money?
Should bands make more money off album sales?
Would yall rather be a mainstream band or an indie band who is trying to earn 'buzz bucks'?
Do yall know much a top tier indie band makes per show?
Is it a 'solid' figure, or 'depressing'?
R u sad that J Bieb makes more money in a year than u might make in ur lifetime?
Would u rather be a billionaire in 'real money' or with 'buzz dollars'?