NSFW: Bloghouse sex icon Uffie comes out of retirement, releases new+slutwave music video
By Carles on 06 Oct 2010
Uffie is some blog house rapper on Ed Banger Records, the home of the popular banger DJ duo Justice. Back during the blog house era, Uffie was a 'sex icon' as a sexy autotune rapper. Some say that she was the inspiration behind some of the most successful slutwave acts such as Ke$ha, Rihanna and Feist. Uffie seems to be 'trying to make a come back', but I am not sure if any1 cares any more. Seems like the music scene has evolved, but maybe she has a 'strong following' in Europe. She released a new music video for the song "Difficult." Sorta let down by the video. Of course I knew the song was going to be subpar, but I was hoping that it would at least have a sexy music video that figured some nice looking juggs bouncing around. Unfortunately, it is just a concept art video that isn't rlly interesting / has no climax. Feel all like 'yawn' as I watch this, tuned out, like my wife of 25 years is telling me another boring story.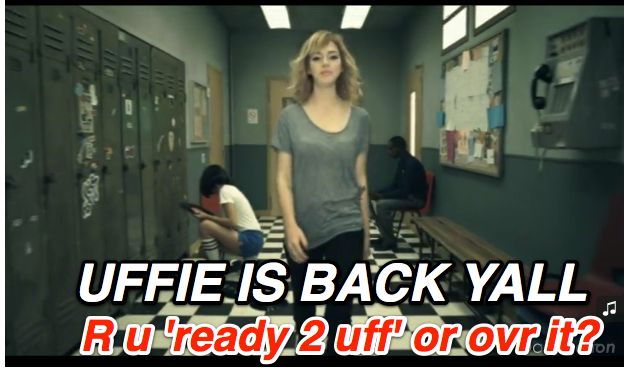 Is this song 'terrible'? Is Uffie 'beyond over'? Can bloghouse legends survive in the modern indiesphere? Do u wish Uffie tried a lil bit harder 2 ride the slutwave? Do u wish bands stopped trying to be all artsy and just made videos that were overtly sexual/violent 2 make fans happy? Is Uffie still sexie? Do yall miss the era where Uffie just showed off her gargonzolas all the time? [
link
]
Miss u [
link
]
Alternative Celebrity, Buzzband
Uffie is a French bloghouse rapper who is known for hanging out with her titties out.
Read more>>>>