M0RE "BRAKE B00T"!
By Carles on 23 Oct 2008
Yall might remember this cmmnt from the previous Breakbot remix that I posted.

Did yall see Breakbot's new myspace headline?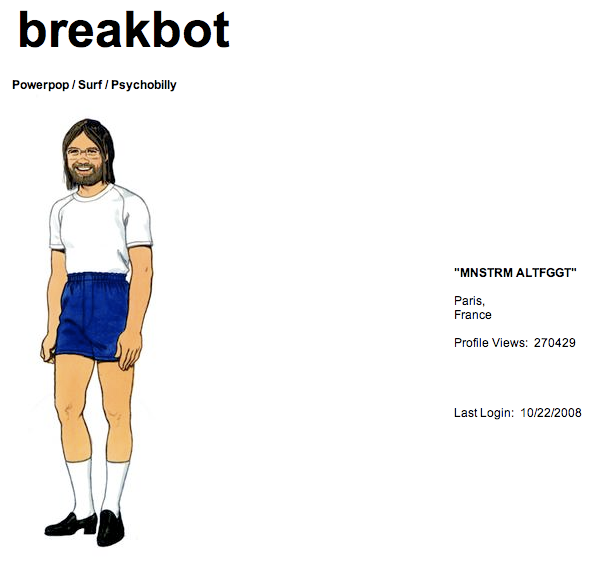 Just wanted to let yall know that ur fave artists read HRO. Hopefully yall feel close the music, and like u r able 2 connect with ur fave artists. HRO is a relevant space where artists come to find out 'what the common man' is saying, and more importantly, a place where every1 comes to 'get in touch with authentic reality.'
Never stop commenting, because in some ways, it is the only voice u have. Kinda like 'voting' but more interactive+satisfying+reactionary. Ur comments are the collective voice of 'the common man.' The common man has been kinda bitter lately because of the Great Depression Stock Market Crash.
I think Breakbot is my favourite artist of 2k8.5-2k9. Who is yalls?
Luv this Digitalism rmx.
[MP3]
Digitalism Apollo-Gize (Breakbot Hypnotoad Mix)
Myspaces
http://www.myspace.com/dothefunkybot
http://www.myspace.com/digitalism
Downloaded at the World's Current #1 Electroblog according to the P4k BlogHaus Power Rankings
http://www.ohhcrapp.net/2008/10/sincere-apollogies-to-breakbot.html]
H8 U MOM JEANS. don't 'get' ur beliefs-system.